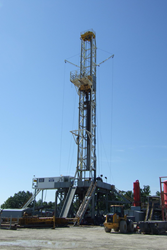 "It is a tenuous time in the energy sector no doubt, but it is also an exciting one. With innovation & new technologies, companies can move forward more efficiently."
Dallas, TX (PRWEB) May 18, 2015
With the price of oil per barrel in a free fall, fighting to correct, the fear of the environmental effects of fracking taking a toll on oil companies and their ability to move forward and continue growing the U.S oil production, what steps can operators take to wade through these difficulties?
Is there a way to move forward and avoid the massive layoffs and cutbacks of projects that are crucial to the future of a United States that is not beholden to oil imports?
Throughout history downturns and crisis have led to innovation and technological advancement. We have seen this in the energy sector as oil & natural gas drillers and producers have developed more highly advanced technologies, like fracking, to become more efficient.
Now is the time for operators to look to a newer, more streamlined process within their internal departments. DivisionOrders.com has developed JIB ASSIST, a new mineral & data management and accounting software system that will allow oil & gas companies to run more efficiently while reducing costs and improving owner/operator relations.
"It is a tenuous time in the energy sector no doubt, but it is also an exciting one. Time and time again Americans have used trials like the ones faced now as a catalyst to innovate, advance and create new technologies in every field. Why not here? Remember the days of the rotary phone? If not, Google it on your Apple Watch," says DivisionOrders.com Chief Operating Officer Chris Schwind.
DivisionOrders.com has a track record of bridging the gap between mineral interest owners and operators. As operators remove and sell the gas and oil, the owners they partner with are due monies from the proceeds. More often than not, this payment stream can be interrupted for various reasons on either side of this partnership. DivisionOrders.com has been able to step in and smooth this process to get the funds flowing the proper direction again. Getting people paid their royalties, saving operators money while saving American jobs is our business.
The launch of our newest services are directed towards the operators and private companies, but will trickle to every aspect of this sector. With JIB ASSIST in place, operators have the ability to research, find data, and keep the owner billing and accounting services on track while connecting the land, division order, title and accounting departments together in one real time web-based system.
DivisionOrders.com is a Dallas, TX based energy consultancy firm committed to connecting partners and creating solutions. We are a consortium of Division Order Analysts, Landmen, Lawyers, Accountants and energy sector professionals. Our group consists of over 90 combined years of experience in the real estate and energy sectors. Our non-adversarial approach to guiding owners through the process of getting the royalties they are owed from the operators has proven effective. We are bridging the gap between mineral interest owners and oil & gas operators.