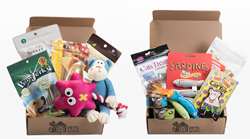 Pets My Heart offers subscription-based gift box service for Malaysian pet owners. In exchange for a nominal monthly subscription, they send a box containing carefully selected snacks and toys to customers' doorsteps each month.
Kuala Lumpur, Malaysia (PRWEB) June 25, 2015
Pets My Heart is pleased to announce the official launch of their new online pet shop that will serve the needs of Malaysian pet lovers following a unique concept. Unlike most other pet shops in Malaysia, Pets My Heart will offer products for cats and dogs based on a subscription based business model. The shop boasts of a large inventory comprising of pet food, toys, and different other pet care products.
The market for pet products is a huge one, and there are many online pet stores that offer a wide range of products. However, Pets My Heart has done well to stand out from all of these pet shops by creating a revolutionary business model where they will send gift boxes containing carefully selected snacks and toys to their customers on a monthly basis. Each of these gift boxes will comprise of different combinations of four to six snacks and toys. In a given month, it could be three types of dog foods and three toys or four toys and two snacks, or any other combination.
The shoppers at Pets My Heart will also receive great savings because the company will sell their gift boxes at a fraction of the price if the same items were to be bought individually. Pets My Heart claims that the box they sell for RM 69 per month may cost well over RM 120 if the same items are purchased individually. To help customers save their time thinking about the items they can buy to pamper their pets, Pets My Heart carefully selects each of the items in the boxes. Just by signing up once, a pet lover can continue receiving gift boxes for the subsequent months.
Pets My Heart is the brainchild of Lam Woon Cherk, an experienced IT professional with vast experience in running e-commerce stores. Lam has teamed up with a few like-minded entrepreneurs to create Pets My Heart.
Talking about Pets My Heart and its exceptional business model, Lam says, "As pet owners ourselves, we know how hard it is to keep our pets happy, on budget. With our subscription-based online pet store, we want to continuously help pet owners bring surprises to their pets, without them spending a fortune and scratching their heads. Each month, we will carefully select a different combination of snacks and toys, and send the gift boxes directly to the customers' doorsteps."
To find out more about Pets My Heart Online Pet Shop Malaysia, please visit http://www.petsmyheart.com.