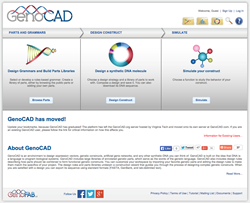 This board brings a unique combination of expertise to the GenoCAD team.
New Orleans, LA (PRWEB) June 02, 2015
GenoCAD, a platform leveraging the potential of custom gene synthesis to improve protein expression, announced the formation of its new board of advisors today. The board includes six executives and entrepreneurs with a broad range of experience in the biotechnology, pharmaceutical, semiconductor, and software industries.
The team includes:
Jimmy Roussel, Entrepreneur in Residence at The New Orleans Startup Fund:
Roussel has a background in technology and marketing. He has served in operations roles with startup technology companies. Currently with the New Orleans Startup Fund, he assists early-stage companies in organization and operations, fundraising, and developing a consistent story that takes both their technology and business components into account.
David Searls, Consultant:
Searls is a computational biologist known for his groundbreaking work at the interface between computational linguistics and genomics. He has worked in academia and industry, including over a decade at GlaxoSmithKline, where he was Senior Vice President of Computational Biology. Thus, Searls brings to GenoCAD the dual perspective of both a high-level executive and an accomplished scientist in the field, giving him the ability to guide the company on matters of corporate strategy and scientific vision.
Alexandre Zanghellini, Co-founder and CEO at Arzeda:
Arzeda creates novel biosynthetic pathways in engineered microbes designed to produce chemicals that are sustainable, cost- and performance-enhanced over petroleum alternatives. Zanghellini leads the team at Arzeda, giving him a unique perspective on growing a new biotech company. Additionally, his insight into the needs of the biosynthetic and synthetic biology communities will be invaluable as GenoCAD moves forward.
Michael Chambers, CEO at Aldevron:
Chambers founded Aldevron and has led the company for the past 17 years. His background in creating, building and sustaining a company designed around custom services for molecular biology will be invaluable in assisting GenoCAD in meeting the needs of scientists looking for complex DNA design services.
Frederic Girardeau-Montaut, Director of Technology Services at Deloitte Consulting:
At Deloitte, Girardeau-Montaut advises clients in team and project management. He not only assists companies in developing effective strategies, but also works to ensure their success through targeted metrics.
Brian Bramlett, Strategy & Design at Intel Corp:
Bramlett has worked in the computing and life science sectors as a designer, team leader, chief technology officer, and strategist. In addition to developing EDA CAD frameworks and silicon design methods, he has designed systems for molecular detection and associated analytics. He is Intel's representative for SemiSynBio, a program and associated Industry Roadmap effort of the semiconductor research corporation, aimed at developing the interface between semiconductors and synthetic biology.
"This board brings a unique combination of expertise to our team," said Jean Peccoud, GenoCAD Acting CEO. "They represent the perspectives of a broad range of stakeholders, such as investors, clients, and partners."
The board meets virtually on a monthly basis. Members of the board have been appointed for one year, renewable terms.
About GenoFAB, LLC:
GenoCAD is provided by GenoFAB, LLC. For more information, please visit http://www.genofab.com.