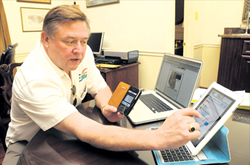 Our EMED air ambulance services will allow EMED members and others prompt, affordable access to Health City Cayman Islands medical treatment.
(PRWEB) June 01, 2015
http://www.airambulancecaymans.com/ EMED, the Jamaican premier ground, air ambulance and medical assistance company, today announced that it has been approved as the preferred air ambulance service provider to the Health City Cayman Islands hospital facility.
EMED provides emergency evacuation services for its extensive group membership network to many healthcare facilities internationally, however Health City Cayman Islands is the only Caribbean hospital to receive the acclaimed Joint International Commission Gold Seal accreditation.
http://www.jointcommissioninternational.org/about-jci/jci-accredited-organizations/?c=Cayman%20Islands
Health City Cayman Islands is a world-class medical and surgical facility providing tertiary care in cardiac surgery, cardiology, orthopedics, pulmonology, pediatric endocrinology. The Health City Cayman Islands experienced team of surgeons, care givers and support staff provide the highest level of patient care to ensure that your health is in the very best of hands. Our state-of-the-art hospital allows for an end-to-end process in facilitating care for international patients. The positive patient environment provides for an ideal, tranquil, and family friendly experience and the best of outcomes.http://www.healthcitycaymanislands.com/
"EMED had already incorporated its air ambulance, ground ambulance and medical assistance service program into its group member program.However now, with this agreement, EMED will be able to offer the highest quality medical services available in the Caribbean at the lowest cost", stated Duane Boise, EMED's President & CEO.
EMED offers medical assistance services for employee groups, trade unions, vacation resorts, local Jamaicans, Caribbean citizens, United States citizens and Canadian citizens who are vacationing in the Caribbean and or are in need of emergency medical assistance. This new agreement will allow patients prompt access to EMED's preferred medical procedure pricing available at Health City Cayman Islands.
EMED has also implemented sophisticated mobile telemedicine technology solutions in its websites. This will allow patients to connect with the Health City Cayman Islands care providers within the critical time period needed to result in a positive patient outcome," said Boise. EMED's medical technology capability puts our combined team far ahead of other providers to assure positive patient outcomes.http://www.emedphr.com
With EMED's already advanced patient transportation capabilities, the venture with Health City Cayman Islands, does not come as a surprise. The company will be installing a 911 emergency button in its websites allowing for an EMT, nurse and patient, all to be connected by way of the Internet. This will allow EMED EMT's to transmit live video and audio from an ambulance to a doctor in an emergency who will be able to watch the video stream on a mobile phone, tablet or desktop computer.
This Video consultation capability will connected patients in other island countries and international locations to specialists at the medical center. EMED offers the potential to expand video interactions into all corners of the health care industry due to its mobility.
EMED, has offices in Kingston, Jamaica and Montego Bay, Jamaica. It 's emergency evacuation services are available 24/7.
876-275-1119 or 876-312-1119