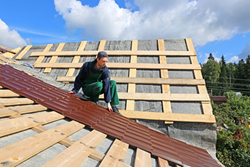 April gains make up for the production dips we saw in the past two months.
Chicago, IL (PRWEB) May 31, 2015
The Federal Savings Bank is pleased with the latest new construction figures for the single-family home sector, showing the market is gaining momentum, according to a report by the National Association of Home Builders published on May 19th. The NAHB noted that the housing market overall saw gains with housing starts in both the multi-family and single-family sectors.
April housing starts increased to 1.135 million, up 20.2 percent from March, as reported by both the U.S. Census Bureau and the Department of Housing and Urban Development, publsihed on May 19th. Single-family housing starts alone rose 16.7 percent month over month in April. With more inventory in the market combined with low interest rates, NAHB forecasts greater home sales.
The new residential construction report for April also revealed a higher number of building permits, rising 10.1 percent from March to reach 1.143 million.
"The April gains make up for the production dips we saw in the past two months, but single-family housing is still only about halfway back to what could be considered a normal market," David Crowe, chief economist at NAHB, said in a statement. "With low interest rates and affordable home prices, we expect more upward momentum in the months ahead." The Federal Savings Bank agrees and thinks all of this positive data bodes really well for buyers looking to purchase an investment property. As the saying goes "the trend is your friend" and right now, the direction is looking up for home prices. One does not want to wait on the sidelines too long as both prices and interest rates may climb to an unaffordable level. The best thing one can do is at least get pre-approved for a home loan for a property purchase so that if/when a desired piece of real estate is found, the buyer can make a confident offer immediately.
Contact the Federal Savings Bank, a veteran owned bank, to learn more about mortgages.