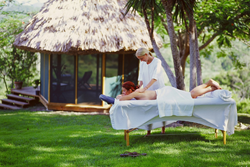 We expect that our guests will return home invigorated, healthier, and better prepared for the challenges of modern life
San Ignacio, Belize (PRWEB) June 01, 2015
The Lodge at Chaa Creek kicked off this year's Belize Summer Solstice Wellness Month on June 1, 2015, and the unique combination of health, wellbeing and Belize's rich Maya heritage seems to have struck a chord with travellers from around the world, according to Bryony Bradley Fleming, the Belizean eco resort's spa manager.
"We've always observed the solstices here at Chaa Creek, as they are so important in the local Maya culture. Our previous winter and summer solstice celebrations generated a lot of very positive feedback, and this year we wanted to incorporate our interest in health, healing and wellbeing with an exploration of nearby Maya temples and sites.
"And since we've received so many enquiries from couples looking to share this unique experience, we brought in our 'Romantic Adventures' team this year to help plan activities for couples and add a touch of romance with candle lit dinners, couples massages, sunset canoe trips and other intimate adventures," Ms Bradley Fleming said.
The new Summer Solstice Wellness Vacation Package features professional treatments at the Hilltop Spa, wholesome meals emphasising organic ingredients from Chaa Creek's traditional Maya organic farm and educational activities and tours that highlight Belize's Maya culture, Ms Bradley Fleming explained.
"The Maya emphasised the need to maintain harmony between the body and mind. They also felt a deep connection between people and nature, and these are the things we want to highlight during the Summer Solstice Wellness vacation.
"With massages and other treatments in the tranquil, beautiful setting of the Hilltop Spa, delicious meals prepared with fresh ingredients, guided tours though a pristine rainforest that has remained unchanged since the Maya built the surrounding temples, and healthy activities like canoe trips, horseback and mountain bike riding, swimming and just walking along the trails crisscrossing our 365 acre private nature reserve, we expect that our guests will return home invigorated, healthier, and better prepared for the challenges of modern life," Ms Bradley Fleming said.
The Belize Wellness Vacation is an all-inclusive vacation package that includes everything for a complete Belize holiday for one set price. Eco-luxe accommodation, all meals, transfers, activities, tours, staff gratuities and access to all amenities within Chaa Creek's 365-acre private nature reserve are included in the package, Ms Bradley Fleming said.
The name "solstice" comes from the Latin sol (sun) and sistere (standing still) as, on solstice day, the sun reaches its highest point relative to the North Pole and seems to stand still before reversing its declination, making the days become shorter and the nights longer. This year the summer solstice occurs in the northern hemisphere on June 21st at 16.38 UTC, and will be celebrated around the world in a tradition that goes back to the ancient Greeks, Romans, Chinese, Vikings, Native Americans and famously by the Druids at Stonehenge in England, Ms Bradley Fleming Bradley said.
"The summer solstice has always had a special significance for the Maya, who are regarded as having one the most advanced civilisations of the ancient word. Their astronomers and mathematicians predicted the date with incredible precision, and it was celebrated as one of the most important events of the year.
"We like to think that we're all participating in a tradition that has been observed right here for thousands of years, and with a modern emphasis on health and wellbeing.
"I think the ancients would approve," Ms Bradley Fleming said.
The Lodge at Chaa Creek sits within a 365-acre private rainforest reserve bordered by the Macal River and the foothills of the Maya Mountains. Miles of jungle trails maintained for horseback, mountain bike riding, hiking, guided and self-guided nature walks, birding tours and other activities connect the Gayot's Guide-recommended Hilltop Spa, a working butterfly farm, Natural History Museum, infinity pool, stables, canoe landing, fine dining restaurant, lounge, conference centre and other amenities.
Ms Bradley Fleming said that further information on the Summer Solstice Wellness vacation can be found on the Chaa Creek website, by contacting the Lodge directly, or through travel agents.
ENDS