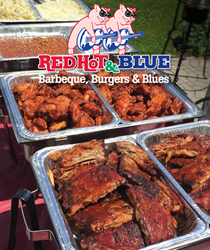 "For delivery call our catering hotline at 888-509-7100 or call the restaurant directly to stop by an pick up your graduation party menu."
Fairfax, VA (PRWEB) June 01, 2015
May, June and July shine a new light on barbecue. The month of May boasts "National Barbecue Month", and barbecue restaurants which are heavily involved in community activities, like Red Hot & Blue at 4150 Chain Bridge Road in Fairfax, Virginia, really heat up when the weather transitions to spring and the pace follows into summer months.
The Fairfax Red Hot & Blue restaurant with 150 seats inside and 35 seats outdoor on the patio features authentic Memphis-style Barbecue, cooked low and slow, hickory-smoked on-site fresh daily. The restaurant feeds guests who dine-in, order take-out or utilize Red Hot & Blue delivery or full-service catering services. The full service bar offers 10 draft beers, 15 different bottled beers and 9 craft beers.
Kevin Ahalt, Manager at the Fairfax Red Hot & Blue Restaurant, is splitting his time and scheduling staff between vending at the Bull Run Winery 4 days per month, (upcoming Bull Run Winery vending dates include: June 6-7, June 20, July 12 & 19, August 8-9 and September 5-6); Street vending at the Fairfax City "Rock The Block" events on June 26, July 24, August 28 and September 25; Fairfax Civil War ReEnactment Event; Serving up Q at local Car Shows; Sampling BBQ fare at Ladies NIght for Twins Ace Hardware or grilling on-site for private parties.
Ahalt enjoys the community events. On most occasions, the Red Hot & Blue mascot, "Big Daddy Blues" Pig attends and entertains children, young and old. At one event Big Daddy met with another mascot, and when the two mascots saw each other, they both froze. As Ahalt described, "It was as standoff, but the rat backed down. Everyone laughed."
On May 1st, Ahalt and his team held a "Wiener Roast" for 800 attendees - grilling 5 different types of sausages, serving delicious Red Hot & Blue signature Southern sides and desserts, and Red Hot & Blue staff manned a cotton candy and snow cone station - creating the perfect company picnic for a Fairfax lawyer, Edward Wiener, of Wiener, Spivey & Miller PLC.
Giving back to the community is part of the Red Hot & Blue core values, and recently Ahalt and his team successfully participated in a fundraiser at Bonnie Brae Elementary Field Day, giving back 10% of the receipts from the day-long event. Red Hot & Blue has scheduled another school fundraiser for Whaples Mill Elementary Schoolon June 12. For more information on fundraising opportunities for non-profit organizations visit: http://redhotandblue.com/central/fundraising/
High school graduation party catering will be the next series of events for the local barbecue restaurant. Over the next few weeks in June, more than 12,000 students are expected to graduate from Fairfax area schools. Ahalt says, "Call our catering hotline at 888-509-7100 and our experienced team can help you plan the menu for your event and assist with delivery or full-service catering plans, and it's never too late to call the restaurant directly at 703-218-6989 and you can stop by and pick up your order–we'll have it ready when you arrive."
Look for the Fairfax Red Hot & Blue team out in the community in July, they will be vending at several different events and locations on July 4th - and since the brick and mortar restaurant is located on the City of Fairfax July 4th Parade Route, it will be easy to stop by and enjoy BBQ and a brew!
About Red Hot & Blue Restaurants, Incorporated:
Red Hot and Blue Restaurants, Inc. was named in the top 3 "Best Barbecue Chains in America" according to The Daily Meal article originally published on March 5, 2014. Editor Dan Myers sifted through regional preferences to funnel the most popular chains in his list of 10 Best Barbecue chains in America. Criteria for selection was based on: "local renown, consistency of food across all the locations, adherence to traditional barbecue techniques like "low and slow" on-premise smoking, atmosphere and most importantly, if the food tastes good." The full article may found online at: http://www.thedailymeal.com/10-best-barbecue-chains-america/3414
The original Red Hot & Blue Restaurant was founded in 1988 by a group of true Southerners (including three politicians from Tennessee) and a transplanted "Yankee" who could not find authentic slow-smoked Memphis-style barbeque to their liking in the Nation's Capital. Since its start, the Red Hot & Blue concept has found a home with multiple locations in six different states: Maryland, Missouri, New Jersey, North Carolina, Texas, and Virginia. The Red Hot & Blue mission is to "serve only the best quality authentic Memphis-style Barbeque in a fun, casual atmosphere surrounded by blues music and memorabilia." Red Hot & Blue's premier catering services have been serving up Southern Hospitality for over 25 years at events from birthday, anniversary, baby showers or graduation gatherings, corporate meetings and presentations, retirement parties and family reunions to casual or formal weddings and large banquets. The Red Hot & Blue catering team can accommodate any type occasion from 20 to 10,000 attendees with customized menus to fit event plans and budget. For more information, visit http://www.redhotandblue.com
For additional information or franchise opportunities, contact: Randy McCann, President, Red Hot & Blue Restaurants, Inc., 154 Charlois Boulevard, Winston-Salem, North Carolina, 27103. Phone: 336-714-1515.