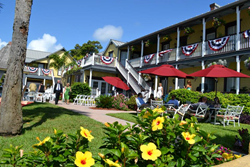 We offer the benefits of an intimate hotel, with the amenity package of a bed and breakfast.
St. Augustine, Florida (PRWEB) May 31, 2015
The Bayfront Marin House, an historic inn located in downtown St. Augustine, Florida, is now offering their guests 24 hour desk service.
"We wanted to offer hotel style amenities for our guests," says owner Mike Wieber, "and having access to a front desk and concierge any time of day or night is a nice service.
"Of course, our guests will continue to have all of the benefits of a bed and breakfast as well--the homemade breakfasts, daily happy hour, and personalized service," says Wieber. "It's just that now we're able to offer personalized service all day and all night."
The award-winning, waterfront hotel is located in St. Augustine's downtown area, close to hundreds of restaurants and attractions in the oldest city. The inn offers their guests a long list of amenities and services: In addition to the breakfasts and happy hours, guests at the inn can enjoy access to complimentary bicycles, parking, beach umbrellas and chairs, as well as wifi coverage, concierge services, and intimate, luxurious accommodations.
"We really think we offer a unique experience," says Wieber. "We are a slightly larger inn, with 15 rooms, which allows our guests a degree of privacy if they are looking for a romantic getaway. But we also offer the benefits of a bed and breakfast, and the personalized attention that you find at a smaller property. The addition of a 24 hour front desk will just enhance that experience."
About the Bayfront Marin House
The Bayfront Marin House is an award-winning, waterfront bed and breakfast, with 15 rooms located in the historic district. They offer hot southern breakfasts daily, as well as a two-hour happy hour each night. Reservations can be made at http://www.bayfrontmarinhouse.com, or by calling 904.824.4301.