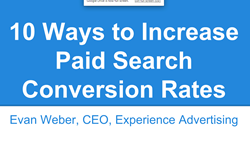 This was a great conference to speak at, I've already had great feedback for my presentation.
(PRWEB) May 30, 2015
Evan Weber, CEO of Experience Advertising, Inc., was a featured speaker at the Click It Summit this week. His presentation was titled: 10 Ways to Increase Paid Search Conversion Rates. The presentation discusses numerous ways for a company to better capitalize on their paid search advertising spend. Evan's presentation has already received rave reviews and is available to watch to all for free.
About Click It Summit: Click It Summit(CIS) is a multiple series of professional online summit & exhibition events designed to appeal to smart & savvy digital marketing experts and executives worldwide. The Click It Summit programs bring absolutely the Best Speakers in the world featured in professional multiple sessions providing the most updated information on internet marketing, affiliate marketing, digital paid advertising, content marketing, direct marketing, search engine optimization (SEO) and social media. The programs will also include sessions on conversion, user-friendly site design, online branding, online payments and technologies, as well as closely allied marketing fields such as mobile marketing and internet retailing.
About Evan Weber: Evan Weber has been involved in ecommerce and digital marketing for more than 17 years. He has been part of several successful start-ups and Internet ventures. Currently, Evan runs his digital marketing agency and other Internet companies. He is known as an expert in most aspects of digital marketing and social media, and takes a lot of pride in living up to his reputation. He is a recognized conference speaker and content producer.
About Experience Advertising, Inc: Experience Advertising, Inc. is a full-service digital marketing agency specializing in the following areas: affiliate program management (OPM) and recruiting, search engine marketing, social media marketing management, Facebook advertising management, Twitter advertising management, LinkedIn advertising, website conversion rate optimization, email marketing, graphic design, programming, content marketing, customer referral programs, and website visitor retargeting. Experience Advertising is an award-winning OPM (outsourced affiliate program management) agency.