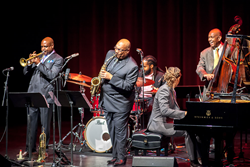 Fort Lauderdale, FL (PRWEB) May 30, 2015
South Florida JAZZ, the area's premier modern jazz organization, is excited to present The Clayton Brothers Quintet on Saturday, June 13, 2015 at 8:00 PM. This concert will take place at the Rose & Alfred Miniaci Performing Arts Center on the Nova Southeastern University campus, 3100 Ray Ferrero, Jr Blvd, Davie 33314. Tickets are $40 ($10 students under 25 with I.D.) and can be purchased from Ticketmaster either by calling 954.462.0222; or online at http://southfloridajazz.org.
Bassist John and saxophonist Jeff Clayton have had a family band since 1977. It now includes John's son pianist Gerald in addition to the magnificent trumpet luminary, Terell Stafford and Miami-born drummer Obed Calvaire. The band is in the blues-drenched, gospel-flavored hardbop tradition of Horace Silver and Cannonball Adderley. This is a rare South Florida appearance for this stellar band and a first for South Florida JAZZ.
John and Jeff Clayton prove conclusively that talent and creativity often are genetic or at least familial. Their Grammy-nominated quintet, Clayton Brothers, was originally founded in 1977, and while their paths occasionally diverge, the brothers continue to share a common musical vision that draws them together. Two projects are ongoing: the quintet, favored by multi-instrumentalist Jeff, and the Clayton-Hamilton Jazz Orchestra, the brainchild of bassist John (perhaps because of his early experience in the bands of Count Basie, Woody Herman and Lionel Hampton) in collaboration with drummer Jeff Hamilton. Both aggregations are highly acclaimed and widely recorded. But it is the quintet that is the vehicle for the performance for South Florida JAZZ. Two of their more recent recordings were nominated for Grammy Awards for Best Jazz Instrumental Album, Individual or Group – Brother to Brother (2009) and The New Song and Dance (2010). The latest CD, The Gathering, has guests Stefon Harris and Wycliffe Gordon (2012) augmenting the band. There is a classic, ebullient Clayton Brothers sound that blends each instrument in the band.
A Grammy-awarded artist, John Clayton began his serious study of jazz bass at age 16 under the tutelage of Ray Brown, but also he held the principal bass chair in the Amsterdam Philharmonic Orchestra and has served as the Artistic Director of Jazz for the Los Angeles Philharmonic Orchestra. He has played with and/or written and arranged music for Milt Jackson, Nancy Wilson, Dee Dee Bridgewater, Natalie Cole, Michael Bublé, and others.
Reed player, Jeff Clayton studied oboe at Cal State, but plays predominately alto sax and flute. He has been a touring and studio musician, recording important pop albums with Stevie Wonder, Gladys Knight, Michael Jackson, Patti Labelle, Earth Wind & Fire, and Madonna in addition to his extensive jazz credentials, which also include Kurt Elling.
The quintet consists of John's son, the rapidly rising-star pianist Gerald Clayton (also Grammy-nominated for his own work); Terell Stafford, the highly-regarded trumpeter-flugelhornist with a pure, gorgeous sound; and the electrifying drummer, Obed Calvaire, a Miami native kicking the band in all the right places. The result is an elegant, post-modern jazz band with a traditional in-the-pocket groove that makes audiences feel good.
ARTISTIC PERSONNEL
Jeff Clayton - alto sax, flute
John Clayton - double bass
Terell Stafford - trumpet & flugelhorn
Gerald Clayton - piano
Obed Calvaire - drums
Funding for this organization is provided in part by the Broward County Board of County Commissioners as recommended by the Broward Cultural Council.