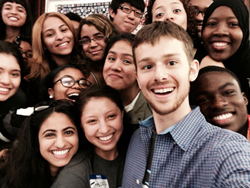 "This experience enabled me to realize that there's more to this world than just the South Bronx." - Selina Asamoah, Summer 2014 Program Participant
Scarsdale, NY (PRWEB) June 01, 2015
Trip of a Lifetime, a not-for-profit organization that empowers students to become catalysts for change in their communities through summer travel experiences, has accepted 16 students into its program for the summer, its highest number yet.
The mission of Trip of a Lifetime as its founder, Stan Rosenberg, puts it is to "use travel as a medium to unlock the true potential in underprivileged students, enabling them to become the leaders of tomorrow." There were more than 130 applicants for the summer program, making it the biggest year for the organization to date. The students that were accepted into the program have a desire to make a positive impact in their communities and currently volunteer at over 30 organizations, ranging from Girl Up to the Salvation Army. As a result of their hard work and deserved accolade(s), students get to see the country and learn about themselves through one of our summer trips, run by our partners at American Trails West and Rein Teen Tours. This summer, students will be traveling to over twenty states and three countries, including, for the first time, Costa Rica.
In addition to their trips, accepted students have the opportunity to participate in leadership development programs when they return. Through these initiatives, students will learn the skills required to become successful social entrepreneurs and will have the opportunity to participate in initiatives run by the Middy Fund, Everyday Ambassador, Finding the Fabulous, and Acts of Gratitude, among other organizations. To date, 70% alumni have reported their experience with Trip of a Lifetime as being their most significant to date, showing the power of travel to transform, grow, and develop those that experience it. As Selina Asamoah, a 2014 trip participant put it, "This experience enabled me to realize that there's more to this world than the South Bronx."
For more information about Trip of a Lifetime, please visit http://www.projecttoal.org.