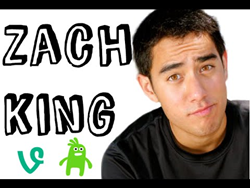 We are excited to have someone with Zach's experience and social media savvy to share with our independent associates how they can use the Internet to tell their stories, and ultimately, build their businesses
Atlanta, GA (PRWEB) June 05, 2015
He may be known as the "Vine Magician," but social media sensation Zach King can now add professional public speaker to his resume. First Financial Security, Inc. announced today that King would be its keynote speaker for the company's annual Leaders Convention, July 16-18 at the M Resort Spa & Casino in Las Vegas.
"We are excited to have someone with Zach's experience and social media savvy to share with our independent associates how they can use the Internet to tell their stories, and ultimately, build their businesses," explained Meg Jones, First Financial Security's President.
"While Zach may seem like an unusual speaker for a financial services convention, he was perfect for us. Social media is the vehicle for how we're reaching people and sharing our story of changing the face of insurance to help people achieve financial security and peace of mind."
Creating videos that use what he calls "digital sleight of hand," King and his team have pushed the limits of how fast you can grab an audience, wow them and leave them wondering, "How'd he do that?" He is probably best known for his work on the social app Vine. He began posting his work there in 2013 by giving himself the challenge: "Create one Vine, every day, for 30 days."
The Oregon native, who attended film school at Biola University, King now has more than 3 million Vine followers, as well as 3.8 million on Instagram and 1.6 million on Facebook. In addition to creating his own content, he and his team have developed projects for major brands, such as Nike, Red Bull, Disney Studios and Paramount Pictures. His talents were showcased recently on the 87th Annual Academy Awards telecast in February and the American Idol finale in May 2015.
About First Financial Security, Inc:
A national brokerage agency, (FFS) is a leader in providing financial services to meet the needs of Middle Americans. First Financial Security has made a commitment to change the face of insurance through diversity and innovation.
First Financial Security, Inc. is committed to providing people with access to products and financial concepts, and an empowering business opportunity to help put them in a position to succeed and find the peace of mind that comes from financial security.
Partnering with some of the country's leading insurance carriers, First Financial Security equips, trains, and supports thousands of licensed FFS field associates, who deliver quality financial products to households across America.
First Financial Security, Inc. is headquartered in Norcross, GA, a northern Atlanta suburb, and is led by Co-CEOs Phil and Debbie Gerlicher and President Meg Jones.
Join the conversation and stay up-to-date on the latest industry and First Financial Security, Inc. news by visiting our Facebook and following us on Twitter @FFSNews. Also, be sure to check out our YouTube page