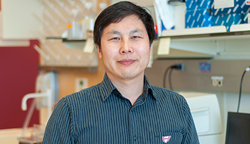 Dr. Wang is a rising star in the ovarian cancer world. Colleen's Dream Foundation is honored to support his research." Billy Cundiff
Phoenix, AZ (PRWEB) June 02, 2015
Colleen's Dream Foundation, with fundraising help from the Harlan, Iowa community, has granted $70,000 to the UNMC to support ovarian cancer research conducted by Cheng Wang, Ph.D. according to NFL Kicker Billy Cundiff, a member of the Colleen's Dream Foundation Board of Directors.
Cundiff says the UNMC grant was the biggest to date for Colleen's Dream Foundation and they couldn't have picked a better recipient than Dr. Wang in Omaha.
"Dr. Wang is a rising star in the ovarian cancer world," says Cundiff. "Colleen's Dream is honored to support his research."
According to the UNMC, Dr. Wang, in collaboration with Jixin Dong, Ph.D., of the Fred and Pamela Buffett Cancer Center, is investigating whether the hippo signaling pathway drives migration and proliferation of the cancer. His studies show that a recently-described new cell signaling pathway which controls organ size and how rapidly cells divide, may be responsible.
In addition, Dr. Wang will be investigating whether, as some recent studies have conjectured, the Fallopian Tube is the primary site of origin for ovarian cancer.
"This has important clinical implications," says Dr. Wang. "Early cancer screening tests may allow surgical removal of malignant cells, preventing them from colonizing ovarian tissue."
Cundiff says "early detection" is key to helping defeat this disease.
"The American Cancer Society estimates that in 2012, 22,280 women were diagnosed with ovarian cancer and 15,500 women died from the disease," says Cundiff. "These statistics make ovarian cancer the fifth leading cause of death and the leading cause of gynecologic cancer deaths among women in the United States."
Cundiff says this is why Dr. Wang's work is so important.
"When ovarian cancer is found in its early stages, it has a 92 percent five-year survival rate," says Cundiff. "However, most women are diagnosed at advanced stages and less than 50 percent of these women will survive five years."
Cundiff says it was the support of the Harlan community that made a grant of this size possible.
"We love supporting research that is geographically close to our supporters, and the Harlan community is roughly an hour away from Omaha," says Cundiff. "This grant would not have been possible without Nadine Kenkel and her family who rallied their entire community around Nadine's efforts."
Go here for more information about ovarian cancer and Colleen's Dream Foundation.
ABOUT THE UNIVERSITY OF NEBRASKA MEDICAL CENTER
As Nebraska's only public academic health sciences center, UNMC is committed to the education of a 21st century health care work force, to finding cures and treatments for devastating diseases, to providing the best care for patients, and to serving our state and its communities through award-winning outreach. UNMC also is committed to embracing the richness of diversity, and is a major economic engine for the state of Nebraska.
Led by Chancellor Jeffrey P. Gold, M.D., UNMC has six colleges and two institutes, serving about 3,700 students in more than two dozen programs. Our primary care program was recently ranked fourth in the nation by U.S. News & World Report, and our physician assistant program was ranked ninth. The university's physical therapy, pharmacy and public health programs also are ranked among the top in the country.
ABOUT COLLEEN'S DREAM FOUNDATION:
Colleen's Dream Foundation started in 2012 and supports research for early detection and improved treatment for ovarian cancer. The story of Colleen's Dream started in 2007 when Colleen Drury –Nicole Cundiff' mother and Billy Cundiff's mother-in-law- was diagnosed with late-stage ovarian cancer. The family became aware of a new world that was filled with invasive surgery, harsh chemotherapy, and lots of uncertainty, and realized they needed to help others who were dealing with ovarian cancer.
Colleen's Dream Foundation believes it is important to raise money for research that will lead to reliable early detection testing and improved treatment for ovarian cancer. Because so little is known about ovarian cancer in proportion to other women's health issues, there is an incredible opportunity for research and education.
Colleen's Dream Foundation is a qualified 501 (c) (3) tax exempt non-profit organization based in Phoenix, Arizona.