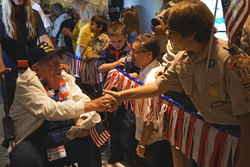 I can think of no better cause for the MIA community to rally around than to celebrate the men and women who fought for the freedoms we all enjoy today.
Miami, Florida (PRWEB) May 31, 2015
Miami International Airport, in partnership with Honor Flight South Florida and Eastern Air Lines, capped off National Military Appreciation Month by hosting its first-ever Honor Flight for more than 60 World War II and Korean War veterans on May 30. After departing MIA Saturday morning on Eastern Air Lines flight #1941 (named for the year that the U.S. entered World War II), the 60 living legends received tours of the World War II and Korean War memorials and other military sites in the nation's capital – many for the first time in their lives. On the return trip aboard flight #1945 (the last year of the war), nearly 3,000 personalized thank-you letters collected at MIA from airlines, federal agencies and other airport tenants, as well as from local school children and civic organizations, were distributed to the veterans during a traditional "mail call" for deployed soldiers. The Miami-Dade Aviation Department spearheaded the letter-writing campaign and gained support from more than a dozen airport and community partners. The Honor Flight event culminated with a homecoming at MIA, where thousands of South Floridians gathered to take part in a massive receiving line that included local residents of all ages, local and federal elected officials, honor guards, airport employees and passengers. The event also marked Eastern's first domestic passenger flight since its re-launch this year.
"We were extremely honored to host our first-ever Honor Flight at MIA, and we look forward to hosting additional flights in the future," said Miami-Dade Aviation Director Emilio T. González. "I can think of no better cause for the MIA community to rally around than to celebrate the men and women who fought for the freedoms we all enjoy today. They were truly The Greatest Generation, yet most of them never received a homecoming like the one they enjoyed today. We were proud to partner with Honor Flight South Florida and Eastern Air Lines to pay tribute to them as we conclude Military Appreciation Month."