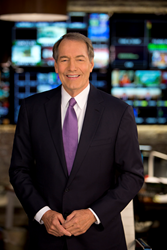 Phoenix (PRWEB) June 01, 2015
Charlie Rose, the award-winning anchor of "CBS This Morning" and host of the respected late-night talk show on PBS that bears his name, is the 2015 recipient of the Walter Cronkite Award for Excellence in Journalism, Arizona State University announced today.
Rose will receive the 32nd annual award, given by the Walter Cronkite School of Journalism and Mass Communication, at a luncheon ceremony Oct. 19 at the Sheraton Phoenix Downtown Hotel.
"I treasure this honor the way I cherish the life of Walter Cronkite," Rose said. "What I loved about his life was his passion for all things in life, including sailing. His journalism went far beyond the headlines to include the same range of curiosity I pursue from politics to people, from science to space, and always the story. Whether he was looking back into history or forward into space, he was the constant connection to our world. The fact that this award comes from one of our best journalism schools makes it even more appreciated."
Rose, a Peabody and Emmy Award winner, is known for his hard-hitting, one-on-one interviews on CBS and "Charlie Rose," his daily late-night interview program that has been syndicated on PBS for more than 20 years.
"Charlie Rose" premiered in 1991, becoming a popular venue for in-depth conversations on politics, performing arts, literature, film, science, medicine and business. In 2011, he was named anchor of "CBS This Morning," helping the program become the fastest-growing morning news broadcast in the U.S.
With more than 40 years of broadcasting experience, Rose has interviewed Bill Clinton, Bill Gates, Nelson Mandela, Toni Morrison, Barack Obama, Yitzhak Rabin and Martin Scorsese, among hundreds of other newsmakers including Walter Cronkite in 1996. His sit-down with Syrian President Bashar al-Assad in 2013 for "CBS This Morning" won him a Peabody Award for its timely and meaningful look into the face and mind of a tyrant.
From 1984-1990, Rose worked for CBS News as the anchor of "Nightwatch," the network's first late-night news broadcast. He won an Emmy in 1987 for his interview with convicted mass murderer Charles Manson. At CBS News, he also was a correspondent for "60 Minutes II" from 1999-2005.
"CBS News is proud to have Charlie Rose co-hosting 'CBS This Morning' each day — and honored that he is receiving this award from ASU's Cronkite School of Journalism," said CBS News President David Rhodes. "Our core values are the same now as they were when Cronkite anchored the 'CBS Evening News.' Charlie Rose embodies those values today."
Throughout his career, Rose has hosted a number of outside projects, including a special for the Discovery Channel, "One on One with Roger Payne," for which he won an Emmy in 1992.
Rose entered television journalism full-time as managing editor of the PBS series "Bill Moyers' Journal" in 1974. He also served as a correspondent for "USA: People and Politics," a weekly PBS series on the 1976 election, which earned him a Peabody Award. Early in his career, he also served as a correspondent for NBC News in Washington in 1976 and co-hosted a daily talk show for WLS-TV Chicago in 1978.
A native of North Carolina, Rose is a graduate of Duke University with a bachelor's degree in history and a J.D. from Duke's School of Law.
"For the past 40 years, Charlie Rose has asked the tough questions that impact people around the world," said Christopher Callahan, Cronkite School dean and Arizona PBS CEO. "We are thrilled to honor him and excited for our students, alumni, supporters and friends to meet one of the best in journalism."
Other Cronkite Award recipients include TV anchors Tom Brokaw, Robin Roberts and Diane Sawyer; newspaper journalists Ben Bradlee, Helen Thomas and Bob Woodward; and media executives Katharine Graham, Al Neuharth and Bill Paley. Cronkite personally presented the award during its first quarter-century. The CBS News anchor died in 2009.
The Walter Cronkite School of Journalism and Mass Communication, named in Cronkite's honor in 1984, prepares the next generation of journalists in both the time-honored fundamentals embraced by Cronkite and the multimedia skills necessary to thrive as journalists in the digital age.
Housed in a $71 million state-of-the-art media complex in downtown Phoenix, the school has been featured in The New York Times, The Times of London and USA Today as a leader in 21st century journalism education and innovation.
The Cronkite School is the home of Arizona PBS, which serves as a journalistic teaching hospital for hundreds of students who work under 15 full-time faculty at Cronkite News. The news organization includes a nightly television news broadcast on Arizona PBS, digital reporting bureaus in Phoenix, Washington and Los Angeles, a business reporting bureau, an entrepreneurial digital innovation lab, a digital production bureau, a newsgathering and civic journalism bureau and the Carnegie-Knight News21 initiative.