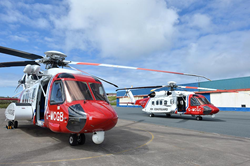 The SAR operation from Lydd will employ about 30 crew, engineers and support staff.
Kent, UK (PRWEB UK) 2 June 2015
UK SAR provider Bristow Helicopters have entered into a substantial agreement with AV Group for a series of steel modular buildings that will provide exclusive accommodation and welfare facilities for its new helicopter search and rescue (SAR) team, operating out of Lydd Airport in Kent.
The SAR operation due to launch in July 2015 from Lydd, will employ about 30 crew, engineers and support staff. The airport is undertaking a significant programme of re-development and expansion to accommodate the new service. New facilities include a runway extension and new hangar. Click here to read more about the Lydd Airport expansion plans.
Twelve 9.7m x 3m steel units, have been manufactured by Danzer Limited for sister company the AV Group. They have been fitted out specifically for Bristow Helicopters and will provide support facilities enabling them to carry out missions along the south coast of England from Lydd for at least the next 12 months once the Royal Air Force ceases operations in July.
Danzer's Dan Holloway says, "This is a unique project and we are delighted to be able to provide some of the facilities required to deliver such an important service. We were selected by Bristow due to our ability to develop cost effective layouts, using our 32×10 OpenSpace modules and cabins, and we designed the configuration which best suited their needs, available space and budget."
The units have been installed within the main hangar at Lydd Airport. The space will aloow the provision of Avionics and Aircraft workshops, a bonded store, lecture and training rooms, chief pilot, crewman, and engineer's offices, and welfare facilities including locker rooms, a canteen, toilet and showers.
Bristow is to replace ageing RAF and Royal Navy Sea King helicopters with Sikorsky S-92s and AgustaWestland 189s, with services based in 10 locations around the UK.
To find out more about Bristow's search and rescue operation at Lydd click http://www.bbc.co.uk/news/uk-england-sussex-32497301 for a BBC news report.
______________________________
Company Information:
AV Group / Danzer Ltd provide modular accommodation, prefabricated, secure steel buildings, on-site sanitary solutions, that can be custom built – for short term or long term use.
For more information please contact Helen Scott 0800 012 6563 / helen(at)avdanzer.co.uk / http://www.avdanzer.co.uk