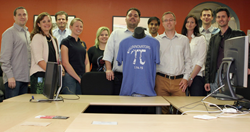 "Our Neumann House model is unique in the sense that we have a community driving this. We will have a vibrant social scene here, not just business services," Tilesch said.
Redwood City, California (PRWEB) June 01, 2015
Sometimes the best idea is just a tiny seed that only needs a little help to flower. That's where Neumann Society is stepping in with the unveiling of Neumann House, the first Silicon Valley innovation hub and accelerator for Hungarians, also welcoming other Europeans.
The new innovation hub will be a physical place, a resource for value-add professional services and a community network aimed at helping high-growth potential companies succeed on the global stage. That's something that innovative new companies really need, according to George Tilesch, president of Neumann Society, a 501(c)(3) nonprofit organization.
"Our main aim is to create a trusted landing pad," he said.
Some of the services Neumann House will offer include office space, easy access to important business and legal services, meeting spaces, education programs and help with critical needs including navigating fundraising or engaging with local business networks. With tailored offerings, Neumann House will help Hungarian startups grow and join the line of Hungarian-American tech blockbusters like LogMeIn, Prezi and Ustream.
But Neumann House is unique in that it will not only be a place to connect companies with services, it will host the dynamic community surrounding its parent organization, Neumann Society.
"Our Neumann House model is unique in the sense that we have a community driving this. We will have a vibrant social scene here, not just business services," Tilesch said.
Established in November 2014, Neumann Society is a diverse and dedicated community of high-level professionals and accomplished thinkers and influencers. The explosive growth of Neumann Society since its founding shows the demand for a global innovation community that can establish paths for knowledge-sharing and entrepreneurial services to bring Europe and America closer together.
In that spirit, Neumann House will also offer fellowships for select companies that meet the organization's mission of spreading mindful innovation and innovative problem-solving to advance global social issues.
Neumann House is being opened as part of a strategic partnership with Silicon Valley-based law firm, technology specialists White Summers Caffee & James, LLP. The firm also serves European startups through their European headquarters in Budapest and provides legal advice and business strategy to entrepreneurs, corporations, individuals and growth businesses at all stages of development around the globe. Former clients include Tesla and Prezi.
"White Summers is thrilled to partner with Neumann House. Together we can provide critical support, connections and experience to next generation startups from Hungary and the Central Eastern European Region – leveraging our joint expertise and networks to connect companies and investors to opportunities here in Silicon Valley and San Francisco," added Mark White, founding partner of White Summers.
Together, Neumann Society and White Summers will be able to provide the kind of special place that can help a startup or any innovator find a sure footing in Silicon Valley. Phase I of Neumann House—open now—will focus on the fusion of office space, business support services, and community meeting and education space. All services will be available at significant discounts exclusively through the partnership behind Neumann House. Later phases starting this fall will focus on adding services such as a mentorship platform and acceleration programs.
"Neumann House will be a unique place that can both foster growth and become a home for top-notch Hungarian and European startups, fusing the spirit of a trusted transatlantic innovation community with the professional growth environment that entrepreneurs need in Silicon Valley," Tilesch said.
About Neumann House
Created and run by Neumann Society in partnership with White Summers, Neumann House is a community-driven innovation hub in Silicon Valley: a co-working space, a business accelerator, as well as a meeting and education space for Hungarian and EU innovators.
About Neumann Society
Neumann Society is a charitable nonprofit organization founded to create and connect impactful innovation communities. A transatlantic community of Hungary-affiliated accomplished professionals, their aim is to create and augment innovation and knowledge transfer in fields such as education, entrepreneurship, scientific collaboration and thought exchange within the American-Hungarian community and between Europe and the US. John von Neumann is the most respected and most prolific Hungarian-American mind of the 20th century. He is celebrated worldwide as the father of the digital computer, game theory, cellular automata, and the universal constructor.
About White Summers
White Summers is a premier boutique corporate law firm that serves as both legal advisors and business strategists to entrepreneurial management teams and investors. With over 500 active clients, they provide companies with an ecosystem of support, resources, advice and managerial talent critical to company positioning and success.