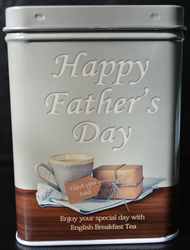 What's better than a good cuppa?
United Kingdom (PRWEB UK) 3 June 2015
The most common Father's Day gifts have been ties, socks, pens or cufflinks, making Father's Day gifts more predictable. British Tea Lovers recognises this and now launches a new product just in time for Father's Day for UK consumers: a limited edition, stunning gift pack with carefully selected finest Ceylon leaf tea from the best tea gardens.
Tea as a gift with premium quality in a beautiful and unique gift package is a terrific idea for any occasion. Those who receive it will enjoy the uniqueness of the gift while tasting the finest tea and thinking of you. Packaging is reusable so loved ones will think of you every time they reach for tea. The tea brew aroma will create a warm atmosphere during special occasions creating great satisfaction.
BTL Tea Lovers formed with an aim to bring high quality leaf-Tea for all Tea consumers across the UK and the rest of Europe. They are extremely focused on bringing the best of teas from the best tea gardens around the world. BTL only liaise with farmers directly and therefore the quality of tea remains in excellent condition. Their prime focus is valued consumers satisfaction on their products.
As a complimentary gift, BTL would like to offer all readers a 10% discount. This can be redeemed by signing up to their newsletter at http://www.britishtealovers.co.uk