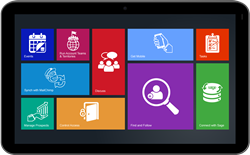 A customer record should not be difficult to find just because it begins with the letter T
Buford, GA (PRWEB) May 31, 2015
Suntico, the online account management system that links to Sage 50 accounting software, has added personal bookmarks to make it easier to find Sage 50 records and associated discussions.
One of the biggest productivity challenges in any business is the time that it takes for workers to find the information that they need to do their job well. According to McKinsey Global Institute knowledge workers spend 19% of their time simply searching for and gathering information. That is nearly a day per week, or 10 weeks per year.
Bookmarks have been around as long as books have, but the need to find the most important information very quickly has accelerated with the use of smartphones and tablet computers.
"With limited space on the screen of a smartphone you want your most important information immediately to hand." says Hugh Johnson, SVP Business Development at Suntico.
In Suntico, the user can apply a bookmark to any record in the system. A customer record, invoice, order, address, task or event. These bookmarks are personal to the user. "A common use for example would be for a sales rep to bookmark the customers that he or she will be visiting, making it easy to pull up the records including maps, phone numbers and order history."
About Suntico:
Suntico is an online account management system for companies that value face to face client contact. The system is suitable for internal company staff as well as independent sales reps. It is incredibly easy to learn with a modern Facebook-like interface. Suntico links tightly with popular accounting software and is currently available for Sage 50. Accounting US (formerly Peachtree), Sage 50 Accounting Canada (formerly Simply Accounting), Sage 50 Accounts in the UK and Ireland, and Sage One (Ireland and UK).