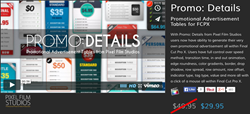 We intend to satisfy the needs of fans of FCPX around the world and get them what they need. Said Christina Austin, -CEO of Pixel Film Studios.
Aliso Viejo, CA (PRWEB) June 01, 2015
With Promo Details from Pixel Film Studios, users now have ability to generate their very own promotional advertisement all within Final Cut Pro X. Users have full control over speed method, transition time, in and out animation, edge roundness, color gradients, border, drop shadow, row spread, row amount, row offset, indicator type, tag type, value and more all with a click of a mouse all within Final Cut Pro X.
FCPX users can choose from over 50 fully customizable table ads, transitions, and backdrop design presets. With Promo Details backdrops, users have the option of customizing their backdrop by altering color gradients, grid control, light emission, main and subtitle and more. With Promo Details transitions users can select from over 10 flip and rotating transitions each with gradient backdrop or with out. With Promo Details tables users have full customization over look and feel of each preset leaving endless possibilities.
"With simple and easy to use on-screen controls each user has total control over the overall look and feel of their promotional advertisements all with a click of a mouse all within Final Cut Pro X."
Pricing and Availability:
The Pixel Film Studios Plug-ins are available today through the Pixel Film Studios website starting at $29.95 USD. For more information, please visit the Pixel Film Studios website.
Established in 2006, Aliso Viejo, California-based Pixel Film Studios is an innovative developer of visual effects tools for the post-production and broadcast community. Their products are integrated with popular non-linear editing and compositing products from Apple FCPX. All Apple, the Apple logo, Mac OS X, and Macintosh are registered trademarks of Apple Inc. in the U.S. and/or other countries. All other trademarks and trade names are the property of their respective owners.