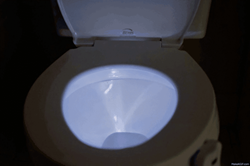 Orlando, FL (PRWEB) May 31, 2015
Jeff Barbieri, a Florida-based technopreneur, has introduced a refreshing lifestyle product called GlowBowl. This product is a sophisticated electronic device that triggers a motion-activated light for your toilet. Jeff currently has a Kickstarter campaign in progress to seek funding for this project. You can view the details here – GlowBowl Kickstarter Campaign.
GlowBowl gives ordinary toilets a make over by using colorful lights. This product is capable of transforming the way people view toilets, especially in the dark.
The biggest selling point of this device is its motion-activated mechanism. People wanting to use the toilet at night will only have to walk towards it. GlowBowl activates itself as soon as it detects motion nearby. A user won't have to switch on any other lights. This avoids exposure to blinding light that may impact their sleep when they return to bed.
Another feature offered by GlowBowl is its capability to detect exterior light. This allows it to automatically switch off so that the battery remains preserved for longer use.
GlowBowl offers 7 attractive LED colors that can be chosen at the click of a button. A 5-stage dimmer allows users to control the level of brightness. A low battery indicator is also present to remind the user in advance to change the batteries.
Jeff Barbieri and his partner Brian Andy, the masterminds behind GlowBowl, have high hopes for its future. They are confident about the product's user-friendliness and the utility value it offers to consumers. Jeff's strong belief in innovation-based devices will help GlowBowl see light of day.
Jeff is seeking $15,000 in funding by Wednesday, Jun 24 2015 11:27 PM +05:30. Currently, his Kickstarter campaign has attracted funding of more than $4000. Those interested in contributing towards GlowBowl's success can do so by choosing from any of the funding options here. Pledge options range from $20 to $350 in return for a pre-determined quantity of GlowBowls if the funding goal is achieved.
Contact
Have any queries about GlowBowl? Get in touch with Florida-based Jeff Barbieri through any of the following options: Email us or call 954-816-2171