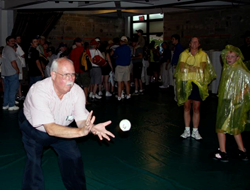 Bernie says. "It's a great place to be for anyone who's interested in baseball. It's like Disneyland for baseball people."
Cooperstown, NY (PRWEB) May 31, 2015
It's almost that time of year again—induction time at the Baseball Hall of Fame, that is.
To help baseball fans across the country experience the induction to the fullest, Sports Travel and Tours of Hatfield, Massachusetts, is offering four different trips that will all converge at Cooperstown, New York, for induction weekend: East Coast Classic, Induction Plus, Boston Induction Special and Boston Induction Extravaganza.
Although all of the trips offer an equally satisfying experience of the induction weekend, the differences between the trips lies in where the travelers go before and after the weekend's big event. For example, the East Coast Classic includes stops in Washington, D.C., and Philadelphia for two additional games that are not offered in the other packages.
However, the main attractions for all four trips are, of course, the Hall of Fame-related festivities that are scheduled for Saturday, July 25 and Sunday, July 26. Once in Cooperstown, travelers will tour the Baseball Hall of Fame and Museum and watch the award presentation at historic Doubleday Field.
Two different awards will be presented during the one-hour program, according to the Hall of Fame's website: the J.G. Taylor Spink Award for "meritorious contributions to baseball writing" and the Ford C. Frink Award for broadcast excellence.
Later in the day, the "Parade of Legends" will commence. Travelers will be able to watch remarkable Hall of Famers—including this year's inductees—parade down Main Street.
Billy Canavan of Las Vegas, Nevada, will be a tour guide for the Induction Plus trip. Canavan, who has seen his fair share of these parades in his 20 years of working for Sports Travel and Tours, remarks on how great the experience can be.
"It's unbelievable to watch all the Hall of Famers riding around down Main Street in these open-ended cars or pick-up trucks," Billy says. "They sit in the back and you're 15 feet away from these guys. You'll even get a chance to throw them a ball when the traffic stops, and they'll sign it and throw it back."
On Sunday, the formal induction ceremony will be held at the Clark Sports Center. Four players will be inducted this year: second baseman Craig Biggio of the Houston Astros, pitcher Randy Johnson of the Seattle Mariners, pitcher Pedro Martinez of the Boston Red Sox and pitcher John Smoltz of the Atlanta Braves.
Bernie Weiss of West Hartford, Connecticut, has been a Sports Travel and Tours guide during Hall of Fame Induction weekend for several years now. Bernie says that during the weekend, Cooperstown, ordinarily a village with a population of only 2,000, sees a drastic influx in people. About 70,000 travelers arrive for the weekend's festivities, and Bernie says he loves the atmosphere they bring.
"Everybody's in such a good mood," Bernie says. "They all want to be there. It's a great place to be for anyone who's interested in baseball. It's like Disneyland for baseball people."
Sports Travel and Tours, based in Hatfield, organizes dozens of sports-related trips each year throughout the United States. Their connections with thousands of hotels, attractions, restaurants, sports venues and airlines allow them to provide sports fans with quality travel experiences.
Learn more about our Induction Weekend trips: East Coast Classic, Induction Plus, Boston Induction Special and Boston Induction Extravaganza.
# # #