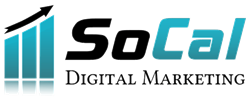 Our SEO Analysis report is a document that constructively analyzes several SEO factors that affect website rankings in the search results, and which has been experimentally proven to dramatically affect your rankings in Google - Andrew Guida
Orange County, CA (PRWEB) May 31, 2015
SoCal Digital Marketing, a Website Design and SEO company in Orange County, California is celebrating their third year anniversary with a special promotion for new clientele interested in online marketing and search engine optimization. SoCal Digital Marketing has grown extensively this passed business year and would like to offer a complimentary SEO analysis for new clients who are interested in generating leads and sales via their websites.
"Our SEO Analysis report is a document that constructively analyzes several SEO factors that affect website rankings in the search results, and which has been experimentally proven to dramatically affect your rankings in Google," says Andrew Guida owner of SoCal Digital Marketing.
The owners of SoCal Digital Marketing have developed a variety of SEO campaigns for small to large national businesses who want to see their websites generate leads and traffic through search engines and social media. Internet marketing and SEO in particular has been the fastest growing marketing channel because business owners now know that being found online is key to growing a business. Customers are actively searching online for products and services and if your website is one of the search results that appears it can affect the traffic brought into the website tremendously.
The different SEO campaigns offered are some of the most comprehensive in the industry. There are four distinct packages that cover every aspect of online marketing. The SEO local package helps small and newly established websites get noticed, while the comprehensive SEO campaign package helps large and well established firms break through the rankings in national terms. In between there are the SEO Competitive Package and the SEO Enterprise Package that cover everything any company would need in the world of SEO including online press releases, social media marketing, competitor analysis and reports, content driven blog posts and more.
SoCal Digital Marketing helps their clients attract more visitors, increase conversions, maximize keyword rankings and drive traffic to their website. In today's competitive world SoCal Digital Marketing can also accommodate clients in need of a complete social media marketing plan that is integrated into their SEO campaigns. Many companies are finding that a website alone is not enough and that they have to actively drive traffic to their site.
Those interested in learning more about the promotion and SoCal Digital Marketing, a Website Design and Orange County SEO Company can visit the company's website, read reviews on Google +, view a video about the benefits of SEO or call directly to 949.309.8845.
###