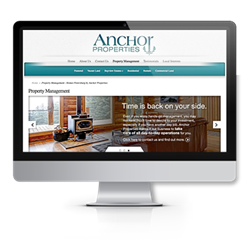 As a real estate professional, I saw the need for better property management solutions in Petersburg.
Petersburg, Alaska (PRWEB) June 04, 2015
As one of the only companies to offer property management services in the Petersburg and Central Southeast Alaska areas, Anchor Properties fills a great need in the community, offering real estate management services and property management services for Alaska property. The company recently expanded to four of the surrounding islands: Mitkof, Kupreanof, Wrangell and Prince of Wales Island. Bennett McGrath, local resident and founder/owner of the Alaskan real estate firm, explains: "As a real estate professional, I saw the need for better property management solutions in Alaska. Expanding to some of the surrounding islands was a natural next step."
Many of her clients live outside of Alaska, making it difficult to manage the day-to-day operations involved in owning property. "It's helpful to have a middle man who can market the property, share photos, handle walkthroughs, collect rent, and deal with maintenance issues," McGrath says about her rental property management services. "Many of my clients would like to have an active role in managing their Alaska property, but don't have time — they have day jobs and families. My clients can have as active of a role as their schedule allows, while we handle the rest."
Many homeowners are nervous about finding renters, which is why finding a trustworthy rental property management company is helpful. Anchor Properties offers a thorough screening process for applicants, helping owners find responsible tenants. "Owning a home is an investment, and we want to make people comfortable in knowing that their property is in good hands," McGrath says.
McGrath also works with people who are relocating to Alaska for work and need housing. "Anchor Properties is familiar with most of the rentals in the area, and we work with relocation companies to make it a smooth transition," McGrath says. "We can meet clients at the ferry and see them to their rentals. If they are coming in late, we make sure the house is warm when they arrive. We have even bought groceries to stock their fridge."
People who are interested in Alaska land for sale, property management, or finding a rental can visit http://www.homespetersburg.com/property-management for more information.
__________________________________________
About Bennett McGrath and Anchor Properties
Bennett McGrath, Petersburg resident and founder/owner of Anchor Properties, is an all-inclusive real estate professional. Offering more than twelve years in the real estate and marketing industries, McGrath also has a law school education, a homebuilding and landscaping contractor background, and possesses the experience and knowledge necessary to provide clients detail-oriented, top quality customer service in the unique Petersburg and Central Southeast Alaska area. Anchor Properties also has over 20 years of property management experience which can fill a much-needed gap in the area's demand for such a need. Property owners no longer have to deal with renters and the day-to-day operations associated with managing their properties.
McGrath relocated to Alaska from California some years ago with husband, Patrick, to start and raise a family and take advantage of the benefits of the small town environment and neighborhood camaraderie synonymous with Petersburg and Alaskan residents. An active member of the Petersburg Elks Lodge, Sons of Norway, and on the board of directors at KFSK (Petersburg's award winning radio station) McGrath is also involved in many other community organizations including helping to build and volunteering at the local community garden, tutoring elementary through high school age kids, and has also coached "Girls on the Run".