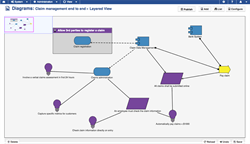 architecture teams often struggle to collaborate with a wider audience of stakeholders
Birmingham, West Midlands (PRWEB UK) 1 June 2015
Enterprise Architecture (EA) teams traditionally using IBM® Rational System Architect can now also utilize Corso's Agile Enterprise Architecture and Innovation Management modules via a newly released integration. System Architect is known as an extremely robust solution, and with Corso's modules, EA teams can do the following:
1. Significantly reduce time in building complex architectures.
2. Collaborate with a wide audience of Stakeholders and build unique communities via a SaaS platform.
3. Utilize powerful analytics that can be leveraged by all Stakeholders.
Whilst IBM® Rational System Architect is extremely proficient in purebred EA situations, Corso recognizes that architecture teams often struggle to collaborate with a wider audience of stakeholders. Corso's Agile Enterprise Architecture and Innovation Management modules are SaaS based and can be used with System Architect or as a stand-alone platform.
"The integration provides comprehensive coverage for any company looking to do rich enterprise architecture and enterprise wide collaboration with innovation in mind," said Martin Owen, CEO at Corso.
"This gives us the ability to closely support IBM System Architect users and take advantage of our highly collaborative SaaS platform. In doing so, we can truly leverage both Companys' capabilities in the market today," said Jon Lederer, VP Worldwide Sales & Marketing at Corso.
Corso was founded by a team of former Popkin, Telelogic and IBM employees, all of whom were previously involved in the development and marketing of the System Architect tool. Today, Corso continues to sell and support IBM® Rational System Architect alongside their own solutions and services.
About Corso
Corso is a global products and services company specializing in Enterprise Architecture, Innovation Management, Strategic Planning and Business Transformation. We combine unique products, professional know-how and industry-proven technologies to solve real-world problems. Corso is headquartered in Birmingham, UK, with offices in New York, Toronto and Melbourne.