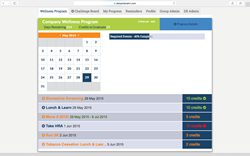 We at DE are thrilled about the new dimension our highly configurable wellness portal brings our clients at still the most affordable price point in the market. - Jeff Mann, Co-founder
Minneapolis, MN (PRWEB) June 03, 2015
DailyEndorphin is pleased to announce the launch of its new wellness "events" programming module. With this highly configurable new offering, DE's annual clients may now set up, run and report on many components of its wellness programming for the entire year as a value-add service at no additional charge.
With this new module, annual clients may also do the following:
(1) Integrate DE challenges
(2) Create participant surveys
(3) Continually report on participant progress towards the stated goal
Contact DailyEndorphin today at [email protected] for a demo.
About DailyEndorphin
DailyEndorphin enables groups of any size to easily set up friendly, configurable "DIY" wellness challenges and programs based on recommended physical activity and healthy objectives. DailyEndorphin provides an interactive way to motivate and engage its users in healthy behaviors leveraging group dynamics, competitions, and goal-setting. DailyEndorphin enables organizers to easily set up manage and promote customizable fitness, weight loss, nutrition, and wellness challenge events and offers back-end reporting and administrative control.
DailyEndorphin's mission is to enable people to live a healthier, happier life in the context of supportive social networks. DailyEndorphin works with groups of all sizes, including employers, health plans, wellness consultants, employee benefits brokers, health clinics, government entities, friends, families, and communities.
Go to DailyEndorphin's home page at http://www.dailyendorphin.com to get more information about their programs.
DailyEndorphin – An interactive website that offers creative, affordable, configurable, "DIY" fitness & wellness challenges and programs that facilitate group exercise and wellness for employers, government entities, schools, friends, families, communities, and groups of all sizes.