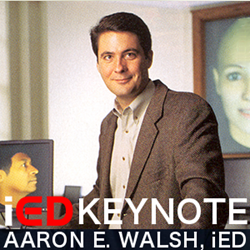 Complimentary Media Passes and Interviews available upon request
PARIS, FRANCE (PRWEB) May 31, 2015
The Immersive Education Initiative today announced that Aaron E. Walsh, founding director of the organization and Boston College faculty, will deliver the opening keynote address at IMMERSION 2015 in Paris this September. Walsh, a world-renowned expert in immersion and immersive technologies, coined the term "Immersive Education" and established the field of Immersive Education.
Named one of the most innovative people in the Information Technology (IT) industry by Computerworld, the premier source of news and analysis for the IT industry, Walsh has been featured in a number of leading technology and mainstream publications, including Newsweek and Newsweek International.
He has been featured by Entrepreneur magazine, CBS Interactive's business technology news service, and was recently interviewed by Larry King about the staggering applications of 3D printing and the technology's potential to change the world -- for better and worse.
His opening IMMERSION 2015 keynote address, The Age of Immersion, will address the personal and cultural impact of immersion and immersive technologies such as Virtual Reality (VR), Augmented Reality (AR), simulations, video games, neurogaming, immersive caves and domes, 3D printing and robotics. His provocative keynote will shine a light on "Immersive Illness," a term that describes mental health issues (such as addiction, alienation, and mental schisms) that may be exhibited by a certain percentage of the population upon prolonged exposure to immersive experiences.
Disney, Google, Smithsonian, and the United States Department of the Interior (DOI) National Parks Service keynotes and workshops will compliment Walsh's opening address at IMMERSION 2015.
For more information visit http://summit.ImmersiveEducation.org
IMMERSION 2015
Building on the success of the previous 9 years of Immersive Education (iED) conferences, IMMERSION 2015 convenes the world's leading experts in immersion and immersive technologies in Paris this fall. The event, which is open to the public, will take place in the famous lecture halls of the historic Paris-Sorbonne University from September 7 to September 10.
IMMERSION 2015 addresses the personal and cultural impact of immersive technologies such as Virtual Reality (e.g., Facebook's Oculus Rift, Samsung Gear VR, Google Cardboard, HTC Vive), augmented reality and mixed reality (e.g., Microsoft HoloLens), holograms and holography, wearable computing (e.g., Google Glass and Apple Watch), mechanical and neural brain interfaces, cybernetics, affective computing (systems that can recognize, interpret, process, and simulate human feelings and emotions), neuro-gaming technologies that are used to create adaptive and radically compelling entertainment experiences, 3D printing, personal robotics, telepresence, virtual worlds, simulations, game-based learning and training systems, and fully immersive environments such as caves and domes.
As a special event that is open to the public, the first two days of IMMERSION 2015 will feature general-interest keynote addresses, talks, panel discussions and exhibits. The event concludes with hands-on workshops and a 2 day technical (research) conference specifically for researchers, academics, teachers and corporate trainers.
For more information visit http://summit.ImmersiveEducation.org
PAST SPEAKERS AND EXHIBITORS
Speakers and exhibitors at Immersive Education events such as IMMERSION 2015 have included faculty, researchers, staff, administrators and professionals from Harvard University (Harvard Graduate School of Education, Berkman Center for Internet and Society at Harvard Law School, and Harvard Kennedy School of Government), Massachusetts Institute of Technology (MIT), MIT Media Lab, UNESCO (United Nations Educational, Scientific and Cultural Organization), Federation of American Scientists (FAS), United States Department of Education, National Aeronautics and Space Administration (NASA), Smithsonian Institution, Stanford University, Cornell University, Duke University, Walt Disney Company, Google, Intel, Microsoft, Oracle, Turner Broadcasting, Gates Planetarium, Computerworld, Stratasys, The MOFET Institute (Israel), Keio University (Japan), National University of Singapore (NUS), Coventry University (UK), Giunti Labs (Italy) and European Learning Industry Group, University of Glasgow (UK), Open University (UK), Universidad Carlos III de Madrid (Spain), University of Oulu (Finland), Royal Institute of Technology (Sweden), École Nationale Supérieure des Arts Décoratifs (EnsAD; France), Interdisciplinary Center Herzliya (Israel), Graz University of Technology (Austria), University of West of Scotland (UK), University of Essex (UK), Universidad Complutense de Madrid (Spain), University of Vienna (Austria), Government of New South Wales (Australia), Eötvös Loránd Tudományegyetem (Hungary), Universidade Federal do Rio Grande do Sul (UFRGS; Brazil) and many more world-class organizations.
PRESS CONTACT
Barbara Mikolajczak
Immersive Education Initiative
http://ImmersiveEducation.org
barbara.miko(AT)ImmersiveEducation.org
+1 (617) 997-1017
THOUSANDS OF MEMBERS WORLDWIDE
The Immersive Education Initiative is a non-profit international collaboration of educational institutions, research institutes, museums, consortia and companies. The Initiative was established in 2005 with the mission to define and develop standards, best practices, technology platforms, training and education programs, and communities of support for virtual worlds, virtual reality, augmented and mixed reality, simulations, game-based learning and training systems, and fully immersive environments such as caves and domes.
Thousands of faculty, researchers, staff and administrators are members of the Immersive Education Initiative, who together service millions of academic and corporate learners worldwide.
Chapters support the rapid and continued growth of Immersive Education throughout the world, and constitute the geographically distributed structure of the organization through which regional and local members are supported and enriched. Chapters organize officially sanctioned Summits, Days, workshops, collaborations, seminars, lectures, forums, meetings, public service events and activities, technical groups, technical work items, research, and related activities.
To learn more visit http://ImmersiveEducation.org