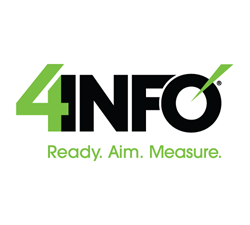 Through this partnership, we're creating powerful 4INFO Multicultural solutions that will deliver unequivocal ROI to multicultural marketers.
Miami, FL (PRWEB) June 02, 2015
4INFO – the fast-growing technology company solving the challenge of mobile attribution for national brand advertisers to measure what matters most, sales lift at the cash register – and Miami-based DMG Solutions – a veteran player in multicultural data driven marketing – are partnering to launch a suite of digital marketing solutions under the "4INFO Multicultural" brand. The new solutions will further enable precise targeting in the diverse U.S. marketplace. DMG Solutions will be the exclusive representative of 4INFO Multicultural, reporting to chief revenue officer, Dave Matthews.
4INFO has been a pioneer in enabling national brands to tie mobile devices with in-store purchase data not only for precision targeting but also to measure the effectiveness of their mobile ad campaigns in terms of sales lift. In a recently published Mobile Advertising Benchmark study based on 83 measurement studies involving 59 leading national brands, 4INFO has proven that mobile ad campaigns are driving an average 257% Return on Ad Spend based on actual in-store sales lift above a control group not exposed to the mobile ads.
For more than two decades, DMG has been a leader in multicultural direct marketing and measurement solutions. DMG has created some of the biggest multicultural acquisition gains in the U.S. for major national corporations.
"It's exciting to join efforts with DMG to bring our suite of products to the growing and highly coveted multicultural marketplace," said Tim Jenkins, CEO of 4INFO. Joe Del Cueto, President of DMG Solutions, agreed.
"Through this partnership, we're creating powerful 4INFO Multicultural solutions that will deliver unequivocal ROI to multicultural marketers, which will eliminate ambiguity in measuring the results of their mobile advertising," Del Cueto said.
4INFO was founded in 2004 and today delivers mobile campaigns with the ability to reach more than 90% of all U.S. mobile users for more than 200 brands. In addition, 4INFO partners with the world's leading data providers, ad networks and mediators to bridge the gap between 1:1 targeted mobile inventory and advertisers.
DMG has been an independent marketing services leader developing ROI centric multicultural campaign strategies for more than 20 years. DMG has specialized in the Direct Response and Direct Marketing spaces and developed numerous proprietary multicultural management tools.
About 4INFO
4INFO is a fast-growing mobile technology company solving the mobile attribution challenge for national brand advertisers to measure the ROI that matters most: sales lift at the cash register. A privately held company, 4INFO's brand ad revenue has tripled consecutively since 2012 — and continues to experience exponential growth. Leading brands — including 8 of the top 10 largest CPG companies, 6 of the 10 largest retailers, and 5 of the largest auto manufacturers — rely on 4INFO's unparalleled scale and experience to deliver their mobile and cross-channel campaigns. 4INFO's patented technology reaches more than 95 percent of U.S. smartphone users in over 100 million households. 4INFO enables advertisers to target consumers with the same precision as online and direct mail advertising by anonymously matching mobile device data to household-level purchase data, providing the ability to measure actual sales results from a mobile ad spend. 4INFO has powered mobile ad campaigns for more than 200 national brand advertisers with impressive accuracy and results: ROI averaging 257% and as high as 1,000%, and market share increases at the expense of competitors. 4INFO collaborates with the most trusted 3rd party data providers of purchase and lifestyle data — including Acxiom, Experian, Nielsen, and Nielsen Catalina Solutions. On the forefront of mobile innovation since 2004, 4INFO is headquartered in San Mateo, Calif., with offices in New York, Los Angeles, Chicago and Boston. Learn more at http://www.4INFO.com.
About DMG Solutions
DMG is one of the largest independent, minority owned Media/Marketing Solutions providers in the multicultural space working with some of the largest corporations in the US on National programs for the last 20 years. Their results driven approach sets them apart from other multicultural marketplace providers, and has allowed them to create a unique set of proprietary performance measurement and enhancement tools and approaches that drive measurable, results centric, client programs. As the marketing and advertising landscape evolves and changes with incredible speed, DMG is well equipped with top level senior executives from some of the top technology, media, agency, client, and research organizations in the world. DMG's management team has proven quick to adapt to new market conditions to keep their client's marketing/media initiatives performing successfully, regardless of market conditions. Learn more at http://www.dmgsolutions.net.
###