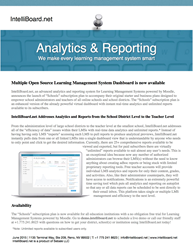 Your LMS is only as efficient as the tools used to access it
Reno, Nevada (PRWEB) June 01, 2015
Multiple Open Source Learning Management System Dashboard is now available.
IntelliBoard.net, an advanced analytics and reporting system for Learning Management Systems powered by Moodle, announces the launch of "Schools" subscription plan to accompany their original starter and business plans designed to empower school administrators and teachers of all online schools and school districts. The "Schools" subscription plan is an enhanced version of the already powerful virtual dashboard with instant real-time analytics and unlimited reports available to its subscribers.
IntelliBoard.net Addresses Analytics and Reports from the School District Level to the Teacher Level
From the administration level of large school districts to the teacher level at the smallest school, IntelliBoard.net addresses all of the "efficiency of data" issues within their LMSs with real-time data analytics and unlimited reports.* Instead of having having only LMS "experts" accessing each LMS to pull reports to produce analytical previews, IntelliBoard.net instantly pulls data from one or all linked LMSs into a single dashboard view that is understandable by anyone who needs to only point and click to get the desired information.
Currently, there are 25+ comprehensive reports available to be viewed and exported, but for paid subscribers there are virtually "unlimited" reports available to suit almost any user's needs. This is an exceptional idea because now any number of authorized administrators can browse their LMS(s) without the need to know anything about creating adhoc reports or being stuck with limited proprietary reporting tools. Free teacher accounts will provide individual LMS analytics and reports for only their content, grades, and activities. Also, like their administrator counterparts, they will have access to notifications.
Notifications is an extremely powerful time saving tool which puts all analytics and reporting on autopilot so that any or all data reports can be scheduled to be sent directly to their email inbox. This platform takes single or multiple LMS management and efficiency to the next level.
Availability
The "Schools" subscription plan is now available for all education institutions with a no obligation free trial for Learning Management Systems powered by Moodle. Go to demo.intelliboard.net to schedule a live demo or call our friendly staff at +1.775.241.8623 with questions on how to get your district, school(s) or institution using IntelliBoard.net today!
*Note: Unlimited reports available to subscribed users only.