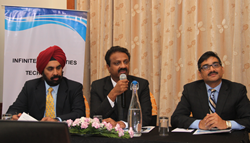 We have also been acquiring technologies that provide us deeper capability. Some smaller acquisitions to complete our vision of offering full spectrum of IT services and solutions are still on the cards - Niranjan Chintam, Founder and Chairman.
McLean, VA (PRWEB) June 03, 2015
Kellton Tech (BSE: KELLTONTEC) , a global IT services & solutions firm, announced today its acquisition of US-based ProSoft Group, a leading enterprise solutions & business integration provider. With this move, Kellton Tech which has been in acquisition spree since last few years expects to have a revenue of USD 80 million, edging it closer to its USD 100 million target by August 2016.
Established in 1995 by residing CEO Raj Gupta, ProSoft has since made significant inroads into the business of enterprise resource planning (SAP lifecycle services), business process management, business integration services (IBM WebSphere, WebMethods), and business analytics solutions among a host of other services. It has been extending these services largely to retail, manufacturing and financial sectors. Several top corporations such as Johnson & Johnson, JPMorgan, Jcrew, Discount Tire, Nike, Electrolux, Univision, Jack Links and BP are among its key customers.
Coming at a time when Kellton Tech is emerging as one of the most booming companies in mid-cap market, the acquisition will reinforce its expertise in WSMAC (Web, Social, Mobile, Analytics & Cloud), IoT and other cutting-edge technologies while amplifying its capabilities in ERP-EAI (Enterprise Resource Planning & Enterprise Application Integration) arena. ProSoft's technology partnerships with SAP, IBM, SoftwareAG and Microsoft will enable Kellton Tech to be better equipped in offering strategic solutions in the areas of ERP, middleware, business integration and SAP lifecycle services. While Kellton Tech has already seen success in this space, the alliance is projected to further elevate their technological competitiveness to greater heights. With an increased headcount of over 1000, the company is solidly positioned to embrace the challenges ahead.
"The acquisition is consistent with our larger strategy of expanding our portfolio and geographic reach. We want to supplement our organic growth with inorganic additions that bring us genuine synergic value. We found a strategic fit in Prosoft which we believe will give our collective capabilities a stronger unified platform to pursue multiple growth opportunities. By blending ProSoft's strong experience in offering innovative business enterprise solutions with our core technology, Kellton Tech is poised to broaden its penetration, especially in the ERP-EAI domain," said Karanjit Singh, CEO, Kellton Tech.
"Both companies share a philosophy of offering highly innovative, customer-centric technology services. Pairing with Kellton Tech will definitely advance our ability to innovate and enhance the value proposition ProSoft delivers to clients," said Raj Gupta, CEO, ProSoft Group, who will continue to lead the firm and as a member of the Board post acquisition. "We view this move as a continuation of our growth story that would bring greater opportunities to our employees and clients".
Niranjan Chintam, Founder & Chairman, Kellton Tech shared his thoughts on the motive behind this move and its long-term impact, "Building on the continued momentum gained in last few years, we wanted to further consolidate our position in US which already contributes substantially to our revenues. While venturing into new business lines, we feel it is better to acquire customers than compete in a saturated market. We have also been acquiring technologies that provide us deeper capability. A judicious consideration of both strategies informed this decision. Some smaller acquisitions to complete our vision of offering full spectrum of IT services & solutions are still in cards."
About ProSoft Technology Group
ProSoft Group, established in 1995 consists of four companies Prosoft Technology Group Inc, Intellipeople Inc, Cyber-World Solutions Inc & Prosoft Business Solutions LLC and based in Downers Grove, IL, US, is a leading-edge, global IT service provider offering end-to-end Total Business Integration, Service Oriented Architecture, Business Process Management, Business Activity Monitoring, Enterprise Resource Planning, Enterprise Portals and Composite Solutions. ProSoft has a development center at Hyderabad, India.
About Kellton Tech Solutions Ltd.
Kellton Tech Solutions Limited is a publicly listed (BSE: KELLTONTEC), CMMi Level 3 and ISO 9001:2008 certified global IT services organization. It is headquartered in Hyderabad, India and has development centers in the United States and India. For two innovative decades, Kellton Tech has put into practice the vision upon which it was founded viz. "to offer infinite possibilities with technology". The company is committed to providing end-to-end IT solutions, strategic technology consulting, and offshore product development services. Kellton Tech serves the full gamut of customers includingstartups, SMBs, enterprises, and Fortune 500 businesses. The organization has serviced customers representing a wide range of verticals including retail, travel, e-commerce, education, hospitality, advertising, market research, manufacturing, consumer goods, logistics, SCM, and non-profits. Kellton Tech is also a global leader in providing Enterprise Mobility Solutions, Mobile Application Development & Internet of Things.