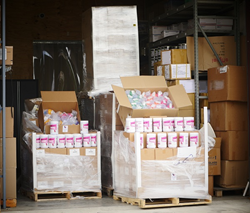 "We are praying for each family and hope that many others will give from how God has blessed them to help the good people of Texas." Monica Craichy
Orlando, Florida (PRWEB) June 01, 2015
KC and Monica Craichy, Founders of Living Fuel, Inc., have generously donated $88,000 of the best superfood products in the world to hundreds of victims of the record-breaking floods in Texas.
"Monica and I are excited to be partnering with Mike Adams and Natural News in distributing Living Fuel Super Meals - SuperBerry®, SuperGreens and LivingProtein® to the displaced victims of the millennial floods in Texas," KC Craichy said. "We have attempted to do this through standard relief organizations over the years but repeatedly discovered that they are not equipped to provide the level of nutrition really needed due to long established protocols for relief situations and changing mindsets to mix Living Fuel in a water bottle, shake and drink is a big change. Typically the focus during catastrophe has been to help people survive not thrive during the most stressful times of their lives. Victims are served the most widely available and least expensive carbohydrate and sugar laden filler foods. Our vision was to help people in crisis thrive with the most premium nutrient dense nutrition available that is everything the body needs from the elderly to the nursing mom and infant, Living Fuel is the super meal you can drink! Mike Adams shares our vision and we are hoping working with Natural News can be a model for future relief."
The Craichy family's donation includes 1,250 containers of LivingFuel LivingProtein®, 500 containers of LivingFuel SuperBerry® and SuperGreens and hundreds of LivingFuel Blender Bottles for mixing the superfoods with water. LivingProtein, SuperBerry and SuperGreens come in special containers ideal for long-term storage and do not contain any GMOs, artificial ingredients or chemical additives.
Natural News workers off-loaded six pallets of LivingFuel superfoods at their Central Texas food distribution warehouse this past weekend (see attached photos). Natural News has also pledged $10,000 worth of long-term storable superfoods to the Hays County food bank to help feed people who have lost their homes. Thousands of people have been displaced from their flood-ravaged homes and two dozen people have died.
"Receiving LivingFuel's extremely generous donation was a breath of fresh air," Mike Adams said. "In times of extreme stress, quality superfoods are more important than ever."
"The loss of homes and lives is devastating to these families and we want to do all we can to help the victims rebuild their lives," Monica Craichy said. "We are praying for each family and hope that many others will give from how God has blessed them to help the good people of Texas."
KC Craichy is a health advocate, researcher, and recognized expert on natural health and performance nutrition. His extensive study of leading-edge health research and collaborative work with top medical and nutritional practitioners and researchers to solve his wife Monica's health problems—anxiety, depression, and suicidal thoughts—led him to the answers for Monica's healing and to the founding of Living Fuel, Inc. As a result of overcoming this health crisis, KC and Monica have helped numerous people become overcomers in their own health situations. Together they are now cohosts of the popular Internet TV program LivingFuelTV.
KC is committed to changing lives through multimedia, super health lifestyle education combined with super healthy, high impact superfoods. He is a Performance Nutrition Specialist and serves on the Nutrition Advisory Board for Titleist Performance Institute. KC also served on the Clinical Nutrition Review Board (the certifying body of the International and American Association of Clinical Nutrition) for seven years. A frequent natural health and performance nutrition guest on various TV and radio programs as well as a frequent contributor to national magazines and blogs, KC lives in Orlando, Florida, with his wife, Monica, and their five children.