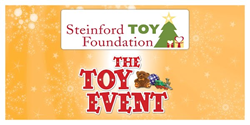 Our work is simple - we deliver Christmas toys to all those in need.
Boardman, OH (PRWEB) June 02, 2015
Steinford Toy Foundation, a non-profit organization that gives Christmas toys to children in need in Northern Kentucky, is holding its annual golf outing on Friday, June 12, 2015 at Fox Run at Kenton County Golf Course. The Steinford Toy Foundation's golf outing is one of its major fundraising events of the year in which it relies on sponsorships and participants to raise funds. Last year alone, the Steinford Toy Foundation was able to reach over 3,500 children.
Tom Wiechman, President of the Steinford Toy Foundation stated: "Our work is simple – we deliver Christmas toys to all those in need. Of course to accomplish that task it's not always so simple. The support that Cogistix has provided the golf outing over the past few years has been tremendous and has made a big difference in our ability to complete that simple task of delivering toys!"
This year, Cogistix of Boardman, OH has continued its support of the organization by committing to a Titanium sponsorship for the event. This year will mark Cogistix's fifth consecutive year sponsoring this event.
"We're very excited to help support this noble cause. This will be our fifth year sponsoring the Steinford Toy Foundation golf outing because we believe in the good work the foundation is doing in Northern Kentucky," said Cogistix President Kevin Miller.
About Steinford Toy Foundation:
Steinford is a volunteer run organization that provides Christmas to Northern Kentucky children in need. They receive referrals from families, churches, and neighbors and make it their mission to serve every child in need at Christmas. For more information, visit http://www.steinfordtoyfoundation.org
About Cogistix:
Cogistix, a Platinum SYSPRO ERP partner, is focused on providing ERP software and implementation services to the manufacturing and distribution industries. For more information, call (330) 953-3937 or visit http://www.cogistix.com.