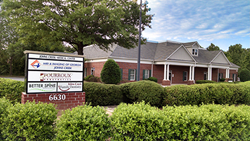 We are extremely excited to open this new prosthetics facility in Atlanta, to provide amputees with an alternative to their prosthetic care.
Atlanta, GA (PRWEB) June 03, 2015
Fourroux Prosthetics, located at 6630 McGinnis Ferry Rd, Suite A in Duluth, GA will celebrate its grand opening with a ribbon cutting ceremony on Wednesday, June 10th, 2015.
The first prosthetic center of its kind in the area, Fourroux Prosthetics will provide amputee patients and their family unmatched care and outcomes through use of patented advanced prosthetics CAD/CAM technology.
Keith Watson, CPO & CEO of Fourroux Prosthetics, states, "Our goal has always been to provide amputees and their families outcomes and a level of service that they can't find anywhere else. We do this by employing a highly qualified, certified and caring staff, embracing the latest in prosthetic technology and providing invaluable education to our patients. All are equally important and critical in being able to provide amputee the outcome they deserve."
"We are extremely excited to be able to provide amputees in the Atlanta area with an alternative to their prosthetic care. Our unique and comprehensive approach allows each patient the ability to reach their particular goals and desires, faster than they have experience in the past." says Will Holbrook, CP & Facility Manager of Fourroux Prosthetics (Johns Creek).
Joining in the grand opening gala and ribbon cutting festivities will be the Johns Creek Chamber of Commerce, council members, the Mayor of Johns Creek, members of Fourroux Prosthetics management & staff, and media outlets from throughout the region. The event is free and open to the public. For more information, call (678) 584-1706.
About Fourroux Prosthetics
Fourroux Prosthetics, headquartered in Huntsville, AL, is a nationally recognized prosthetics facility serving amputees and their families since 1956. Accredited by The American Board for Certification in Prosthetics, Fourroux's approach to prosthetic care is unique. Our Certified Prosthetists and staff are highly trained in the advanced prosthetic techniques. We provide an experience, one that is rich in quality care, education, the use of innovative prosthetic technology and patient outcomes.
Experience Fourroux Prosthetics at: http://www.youtube.com/FourrouxProsthetics
Media Inquires:
Will Holbrook, CP
Facility Manager
Fourroux Prosthetics, Inc.
6630 McGinnis Ferry Rd, Suite A
Atlanta, GA 30097
Ph. 678-584-1706
will(at)fourroux(dot)com
http://www.fourrouxprosthetics.com