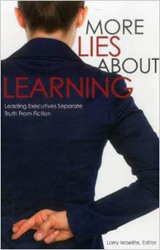 "Lies about Learning to Lead" will transport leaders to a truth that is certain: leadership development is important work.
Merrimack, NH (PRWEB) June 02, 2015
Terence Traut, Entelechy's president, is a well-respected authority on leadership development and his company has created customized programs for organizations for over 20 years. Terry's unique and sometimes irreverent perspective into leadership and learning are found in his articles, newsletters, and whitepapers, and are now featured in More Lies About Learning, released recently by ATD Press. More Lies About Learning "sets out to debunk today's pervasive myths about learning…this book shares the candid perspectives of 10 high-level executives from a wide range of industries and offers advice for how to best deal with new lies about organizational learning."
Titled "Lies about Learning to Lead," Terry explains that "this chapter is about learning to lead, the lies some leaders use to avoid leadership development, and what we, as proponents of effective leadership and as training practitioners, can do in response to these lies as we try to help leaders learn to lead and manage people effectively."
"Lies about Learning to Lead" is based on the three biggest lies leaders tell themselves:

Learning to lead people is easy (that's a lie).
I don't need leadership development because I'm already a good leader (that's a damned lie).
I subscribe to the [pick a leadership guru or commercial program] philosophy of leadership (that's a statistically short-lived delusion).
In his chapter, Terry adresses each leadership learning lie and provides practical suggestions for dealing with each. Insightful and entertaining, the "Lies about Learning to Lead" chapter will transport leaders — sucessful and not so successful — to a truth that is certain: leadership development is important work. Well-developed effective leaders not only have more confidence and success as leaders, their employees have more self-confidence, are more engaged with their work, and contribute more.
"Great employees join great companies led by great leaders," explains Terry. "They stay engaged, contribute more (and in more meaningful ways), and are more fulfilled when the organization abounds with great leaders … leaders who have learned to lead through great leadership development programs.
Entelechy has been creating customized leadership and management development programs for clients since 1992. Working with leaders — and leadership gurus — from a wide array of organizations over the years has made one thing very clear: great leaders know the importance of leadership development on the business. They embrace the idea that even a small improvement in leadership capability can significantly and positively impact productivity, innovation, and engagement and simultaneously reduce turnover of good employees. That should be the goal of every leader; to boldly embrace every opportunity for leadership development. Isn't it time to partner with Entelechy and develop your leadership potential?
For more information on More Lies About Learning, visit http://www.amazon.com/More-About-Learning-Larry-Isrealite/dp/1562869493/ref=sr_1_1?s=books&ie=UTF8&qid=1432651197&sr=1-1&keywords=more+lies+about+learning.
About Entelechy: A featured "private label" provider of leadership development programs since 1992, Entelechy has been the go-to company when organizations are looking to create their own development programs, ones that reflect their goals and address their unique challenges. For more detail about Entelechy's Unleash Your Leadership Potential program, visit Entelechy's website at http://www.unleashyourleadership.com.