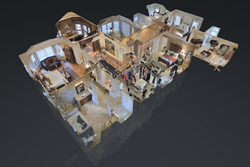 "This quantum leap in technology allows me to walk-through my listings with potential buyers online," said Hirsh.
Atlanta, Georgia (PRWEB) June 02, 2015
Ben Hirsh is the first real estate Broker in Atlanta to own the 3D camera used to create virtual reality home models to show to potential buyers from across the globe. Since purchasing the technology, Hirsh has shown his listings to clients who were as far away as Switzerland. The process of creating 3D home models involves hundreds of high-resolution scans that are stitched together to form a realistic dimensional model that is accurate to 3/4 of an inch. After capturing a home from floor to ceiling, viewers can walk through a home looking up, down, and around as they explore the property.
"For the last 11 years I have always been at the forefront of any technology that enables me to better market my client's homes," said Hirsh. The very first home that Ben created a 3D model for has since gone under contract for close to $3 million to an international buyer, who was able to virtually walk through every inch of the home from the other side of the globe.
Hirsh Real Estate - Buckhead.com represents luxury Real Estate in Buckhead with over $300 Million in sales. Interested in buying or selling a home in Buckhead? Contact Ben Hirsh today at (404) 797-4912 or Ben(at)Buckhead(dot)com.
View 3D models of Buckhead homes for sale here.