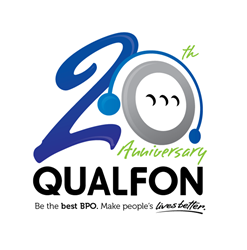 Our approach is simple. We take better care of our people, and they in turn, take better care of others.
(PRWEB) June 01, 2015
Qualfon, a people-driven business process outsourcing (BPO) company and global provider of contact center services, is celebrating its 20-year anniversary this month. Looking back, executives attribute the company's two decades of success to the company mission: "Be the Best BPO. Make People's Lives Better." This people-focused purpose has created an environment where highly-engaged and tenured employees take great care of their customers, their families, their communities, and each other.
Qualfon CEO, Mike Marrow, explained, "Our approach is simple. We take better care of our people, and they in turn, take better care of others."
"The year 2015 is a joyful one. We thank God for allowing us to celebrate the 20th Anniversary of the founding of Qualfon. Qualfon has a beautiful history—a history not only of a company, but of a family that has become a trusted and loyal partner for our clients. Our mission and purpose are constant reminders of our conscious decision to put people first. This mission is the main driving force of our culture and, as such, must never change," said Alfonso Gonzalez, Founder and Chairman, Qualfon.
In a ceremonial exchange, Qualfon entrusts its company mission to its employees, who are then empowered to apply it and use it in both their professional lives and in their personal lives. At the office, employees work diligently to help Qualfon be the best BPO, winning quality awards and earning top performance rankings with clients. Qualfon's people-driven business strategy has led to industry-leading employee tenure rates, which not only improve the company's performance but also make Qualfon more price competitive. In their personal lives, employees strive to help individuals around them by creating and delivering programs that serve the needs of people in the local community.
"It's great for our people, great for Qualfon, and great for our clients and their customers," said Marrow. "We are a family that is united by a common purpose, and together we make many people's lives better."
RISE TO PROMINENCE: QUALFON AND ITS PEOPLE-FOCUSED MISSION
Building a people-oriented company culture has been a primary factor in the company's rise to prominence. Executives spent many years defining, developing, and cultivating Qualfon's company mission. As part of this effort, Qualfon created a host of programs and services that benefit employees, families, and the local communities in which it operates.
For example, Qualfon's Fun@Work, Care@Work and Give@Work programs focus on employee needs, family needs, and also on building relationships with schools, charitable organizations, and non-profit agencies. "Through these relationships, Qualfon offers educational opportunities, free health and wellness services, fun clubs, and humanitarian activities including building homes and classrooms, rehabilitation projects after natural disasters, environmental sustainability projects, and spending time with children and the elderly," said Roberto Sanchez Mejorada, Qualfon's Chief Mission Officer, who put into place the company Mission Index to help measure Qualfon's ability to positively impact people's lives.
Qualfon reports its mission outlay as a multiplier of its success because it benefits the company, its employees, and its clients. Ultimately, the mission delivers a unique value proposition that Qualfon deems its "people-driven value chain." Qualfon's V.P. of Marketing, Brian Kearney, described the company's mission work as a significant accomplishment because "it fuels the foundation behind the company's most important differentiator"—its employee tenure rates are two times higher than the industry average.
"We put people at the center of everything we do. As a result, our people are highly engaged and deliver a superior customer experience. In addition, our low employee turnover enables us to offer a lower price for our services. That's our secret to success, and it will carry us through the next 20 years," said Kearney.
But the mission is "really only half of the Qualfon story," added Marrow. "Our success is also about strategic business moves."
20 YEARS OF STRATEGIC GROWTH
Qualfon started in 1995 and has been in continuous operation, growing its outsourcing locations across the USA, Mexico, South America, the Philippines and China. Today, it has 15 contact centers around the world and roughly 11,000 employees. Qualfon offers a wide portfolio of service offerings that benefit 37 different brands including many Fortune 50 and Fortune 100 companies across a variety of industries.
Some of the most noteworthy triumphs dotting Qualfon's historical timeline include its rapid international expansion in the early 2000s as well as its 2005 pioneer investments in the South American country of Guyana, a market that is recently gaining validity and recognition among industry analysts for its native-English services at prices that rival India and the Philippines.
Other highlights include Qualfon's acquisition of contact center company Center Partners in May 2014, which further diversified service offerings and expanded Qualfon's presence in the USA.
THE FUTURE OF QUALFON
So, where is Qualfon going in the next 20 years?
"What the Qualfon family will do in years to come is even more exciting to us than what it has already accomplished," said Marrow. "Qualfon is well positioned for the future. We have a rapidly growing client base. In addition, Qualfon is investing time and resources into the operational excellence that will allow us to truly be the best BPO, but we are also actively expanding the mission programs that contribute to our employees' health and wellbeing, their family life, their communities, and their spirituality. We have a simple yet effective people-driven business approach that is building a legacy to be the best in our industry and change lives in the process."
ABOUT QUALFON
Qualfon is a people-driven business process outsourcing (BPO) company and a global provider of contact center services and back-office processing. With experienced BPO leadership and a strong track record of business growth dating back to our founding in 1995, Qualfon helps companies reduce costs and deliver superior customer experiences. Today, we have 11,000 employees serving international brands across many industries, and our intelligent outsourcing locations span the United States, the Philippines, Guyana S.A., Mexico, and China. Qualfon's mission to "Be the Best BPO, Make People's Lives Better" means we invest in our people and, in return, they take better care of you and your customers. Qualfon's employee retention is twice the industry average, which creates a people-driven value chain: Our employees stay longer, providing you a higher quality service at a lower price. http://www.Qualfon.com