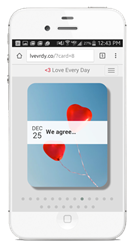 The first and most important hurdle to clear with any mobile app is user engagement -- on average, users visited the app three and a half times visits per day.
Portland, OR (PRWEB) June 02, 2015
ORCAS (http://www.orcasinc.com), a mobile health research and development company, today announces the results of a pilot to gauge the efficacy of Love Every Day, a mobile intervention it developed with funding from the NIH (National Institutes of Health) that is designed to improve the quality, stability and resilience of couples in traditional and non-traditional relationships, while reducing discord and its associated problems. ORCAS conducted a single-group trial with 43 cohabiting couples who used the Love Every Day intervention for 3 weeks. The results showed significant improvements in all outcomes measured: relationship distress; partner cohesion; relationship confidence; and relationship satisfaction.
Marital discord and unhappy relationships are significant risk factors for a range of emotional, behavioral and physical health problems—including increased stress, anxiety, functional impairment, depressive symptoms and substance abuse disorders. Work loss associated with marital problems costs U.S. employers approximately $6.8 billion per year, due to absenteeism, reduced productivity, and increased healthcare costs.
Love Every Day is based on the National Extension Relationship and Marriage Education Model (NERMEM) and habit-formation research. The app uses text messages to engage both members of a couple in three weeks of brief daily questions carefully designed to prompt positive interactions, generate meaningful in-person conversations and create couple resilience. Couples work as a team, sharing their answers to 21 visually engaging and evocative questions about themselves and each other. When both partners answer the question, each member receives a bonus activity designed to elicit an additional in-person interaction.
"We were delighted to see that the feasibility study results objectively showed the impact that Love Every Day has on every measure of relationship function," said Amy Birney, ORCAS Director of Research. "The first and most important hurdle to clear with any mobile app is user engagement -- on average, users visited the app three and a half times visits per day. But most exciting to me as a behavioral scientist is that Love Every Day creates a powerful, reciprocal feedback loop that can drive habit-building. The partners really looked forward to the next day's positive interactions with each other—and that's key to forming a habit of positive interactions."
During the 3-week study, individuals answered the daily question nearly every day (0.9 times per day) and visited the question/answer screen 3.5 times per day. Partners completed an average of 3–4 in-person "bonus" interactions per week. Love Every Day users reported excellent usability (System Usability Scale = 89.5) and high satisfaction with their app experience. Feedback indicated that the app provided "a fun and quick way to stay connected" that improved or renewed a sense of partnership and commitment. Other comments support the quantitative findings that the app sparked positive in-person interactions and that many users experienced anticipation of each day's question and their partners' answers, a key component of habit formation.
"As Employee Assistance and Work/Life companies throughout the world identify family issues as a major cause of stress, the market response to Love Every Day has been very enthusiastic," said Michael Mulvihill, ORCAS CEO. "Accordingly, building resilience with the workforce is top of mind for international employers."
The results of the study can be found at: http://www.orcasinc.com/2015/05/preliminary-relationship-resilience/
About ORCAS
ORCAS is a mobile health research and development company that applies extensive behavioral research to mobile self management interventions that help people manage their health and change their behavior in meaningful ways. The executive management team has extensive experience in the behavioral healthcare industry and ORCAS behavioral scientists have over 20 years of research experience running full clinical trials on web and mobile behavior change interventions.
With the rise of mobile technology and the Health 2.0 movement, ORCAS is poised to provide engaging solutions that create lasting improvements in health and wellness while reducing costs to healthcare organizations, employers, and consumers. For more, visit http://www.orcasinc.com.
###
For editorial information, contact:
Charles Epstein
BackBone, Inc.
che(at)backboneinc(dot)com