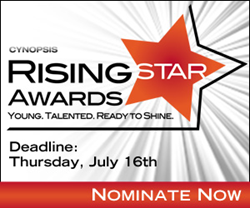 New York, New York (PRWEB) June 02, 2015
Cynopsis Media announced the launch of the Rising Star Awards, honoring young professionals with the smarts, maturity, and composure that give them the potential to be one of the next generation's leaders. Cynopsis is now accepting entries through July 16. Winners will be announced at a special awards reception on Thursday October 15, 2015 in New York City.
"The changing landscape of the TV business has given birth to what we have noticed is an impressive class of up and comers working in all corners of video content," said Roberta Caploe, Cynopsis Media's Associate Publisher. "They're smart, ingenious, productive and energetic. That's why we have formulated an awards program to spotlight and celebrate them."
Presented by Cynopsis Media, one of the industry's most trusted brands, the awards are open to professionals aged 30 and under, spanning across all aspects of the business including distribution, ad, sales, marketing, PR, technology, finance, legal, production and more. (Enter Online Now)
Honorees will be celebrated at an Awards Reception on October 15, 2015 in New York City. For entry questions, contact Sarah Martinez at sarah(at)cynopsis(dot)com. For advertising or sponsorship information, contact VP of Sales & Marketing Mike Farina at mike(at)cynopsis(dot)com.
ABOUT CYNOPSIS MEDIA
Cynopsis Media is a division of Access Intelligence LLC. The Cynopsis Media family of products includes Cynopsis, Cynopsis Digital, and Cynopsis Sports daily e-publications, weekly Cynopsis Classified Advantage e-publication, Special eReports, Event/Summits, the industry's most robust Classifieds and more. Visit Cynopsis.com. ###