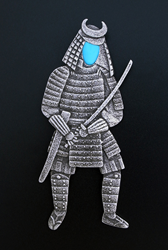 Their jewelry is masterfully crafted and embodies a simple elegance that is a delight to wear. - Shanan Campbell Wells
Santa Fe, NM (PRWEB) June 02, 2015
Sorrel Sky Gallery will feature new work by Darryl Dean and Rebecca Begay in a show opening June 26 at the Santa Fe gallery. Having recently returned from Japan, Darryl Dean's newest creations are inspired by his immersion in Japanese culture and art.
The Begay's new jewelry shows the influence of both Navajo and Japanese cultures. Along with coral and turquoise set in silver and gold, motifs of cherry blossoms, samurai, cranes and geisha can be found. Even stingray skin, used in Japan to wrap the hilt of a samurai sword, finds its place in a bolo tie.
"My recent trip to Japan was life-changing," Darryl Dean offered. "I identify with the Japanese sword makers' ethics. Their meticulous attention to detail is what I strive for in our work. Even with the smallest project, I make sure that every stone is placed perfectly and every surface is immaculate."
Known for the exquisite craftsmanship of bracelets, rings, pendants and bolos, the Begays are a creative team. Darryl Dean, the team's lead designer for this show, and Rebecca each bring individual talents and skills to their collaboration. Darryl Dean is one of the few true masters of the tufa silver casting process, a technique developed by the Navajos in the late 1800s. Rebecca carves nature-based designs into the tufa stone before casting, adding a delicate sensibility to the finished jewelry. Collaborating for 17 years, they were honored with the Best of Show award
Shanan Campbell Wells, owner of Sorrel Sky Gallery, is pleased to premier the Begay's new work. "Their jewelry is masterfully crafted and embodies a simple elegance that is a delight to wear," said Wells.
Sorrel Sky Gallery's fresh approach to Western art presents a select collection of contemporary and traditional fine art and jewelry for the discerning collector. Sorrel Sky Gallery was founded in Durango, CO in 2002 and opened its Santa Fe, NM location in 2014. It represents over 60 painters, sculptors and jewelers including bronze artist Star Liana York, painter Billy Schenck, and former U.S. Senator Ben Nighthorse, among others.