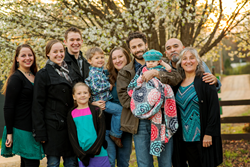 Memphis, TN (PRWEB) June 02, 2015
Though almost the entire Park family was born with HHT, they have always refused to let the disease rule their lives. Organizing and hosting the June 14 event is just another example of their dedication to living life to the fullest and spreading awareness of HHT.
"I've been scanned and I'm not careless about it, but I won't live my life in a bubble because something bad might happen," said Esther Pavao. "The last thing you'd want is to look back on your life with regret because you let fear get in the way of your dreams."
Esther credits her positive attitude to her mom Sandra Huzier, who also has HHT, as do three of her four siblings. Like Esther, Sandra refuses to let her diagnosis control her life. Instead, she teaches yoga class and runs regularly.
"I am an overcomer. I am determined," said Sandra, who is recovering from a stroke that occurred in January. "I will not be beaten by HHT. I just won't."
It's events like the Cure HHT Team Memphis Walk that make it possible for people with HHT to find support, learn about medical resources and connect with Cure HHT, all of which enables them to continue moving forward despite the diagnosis.
"Without events like the walk, Cure HHT would not have the funding it needs to give young scholar research grants, partner with pharmaceutical companies for drug tests or hold focus groups," said Cure HHT Executive Director Marianne Clancy. "We depend on families like the Parks to spread the word of Cure HHT so people know they have somewhere to turn."
What: Cure HHT Team Memphis Walk
When: 9 a.m. to 12 p.m., June 14
Where: Shelby Farms Park, 7171 Pine Lake Drive West, Memphis, TN 38134
Those interested in attending the event or conducting interviews can contact Christine Kirkley at christine.kirkley@curehht.org or 410-357-9932.
About Cure HHT:
Cure HHT was founded in 1991 as HHT Foundation International and has become the epicenter of the national and global effort to advocate for HHT patients and families, raise awareness, catalyze and sponsor critical research and advance treatments. Though Cure HHT has created nearly 20 Centers of Excellence in the U.S. and Canada to treat this devastating disease, research remains woefully underfunded. The National Institutes of Health (NIH) currently spends only half-a-million dollars on research for HHT, but spends as much as $75 million a year each on other rare diseases that affect a similar number of people, such as ALS, Cystic Fibrosis and Huntington's.