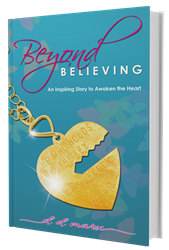 Don't drive any faster than your guardian angel can fly. -Unknown
(PRWEB) June 01, 2015
Beyond Believing is the inspiring story of Olivia, a woman who struggles to discover a way to go on living and fill the void in her heart after her best friend Dan is tragically killed in a car accident. The fictional book was inspired by the true story and loss of Marx's childhood friend due to drinking and driving, a completely preventable situation. This is the season for celebration for many teens, but for some the celebrations will quickly turn to sorrow because of bad choices when it comes to drinking and driving.
Here are a few shocking findings:

In a national survey… 22% of teens reported that, within the previous month, they had ridden with a driver who had been drinking alcohol. Among students who drove, 10% reported having driven after drinking alcohol within the same one-month period.
http://www.cdc.gov/motorvehiclesafety/teen_drivers/teendrivers_factsheet.html

More than one in five teens (22 percent) say their parents have either not spoken with them about driving safety at all or have only talked with them once.
http://insurancenewsnet.com/oarticle/2010/04/09/Study-Shows-90-Percent-of-Teens-Admit-Stronger-Likelihood-of-Drinking-and-Drivin-a-178786.html
The Top 5 Prom/Grad Strategies to Avoid the tragedy of Drinking and Driving
1) Know Their Ride
Know who your teen is getting in a car with and ensure they are a responsible driver who will not be drinking. Get their full itinerary of who is driving, who else is in the car and names and phone numbers. Be sure you can get in contact with them at all times. Talking seriously about this upfront can avoid tragedy later.
2) Pick up Anytime, Anywhere
Talk to your Teen and let them know you'll pick them up anywhere, anytime before getting into a vehicle with someone who's been drinking or if they've had any alcohol themselves WITHOUT consequence. Teens operate from fear. They don't want to get "in trouble" so let them know you would rather have them SAFE than the alternative.
3) Have a Plan B
Discuss prior to an event driving options and have a 'Plan B' prearranged. Don't let your Teenager be in a situation where they could get into a car with someone who has been drinking. Consider options if you aren't able to pick them up: hire a cab, a limo or UBER. All of these options are available and on demand.
4) Create a Buddy System
Designate a buddy system prior to an event. When using a buddy system they won't be alone and unforeseen situations happen.
5) Have Hard Conversation - Death Happens
It may sound harsh but the cold reality is your life can change in an instant. Make sure teens know what is at risk. At this age they feel invincible, but life can change in a moment. Have a hard conversation with them. Ask them how they would feel if they woke up tomorrow in a hospital and found out all their friends in the car with them were killed because their friend was driving after drinking? OR they were driving while drinking? How would that impact their life?
Characteristics of the Drinking and Driving Problem Among Youth
http://madd.ca/madd2/en/impaired_driving/impaired_driving_youth.html
Older Teens: Of all the young drinking drivers who are killed or seriously injured, the smallest proportion is 16 years of age. The largest proportion is 19 years of age.
Males: Account for 87% of the young fatally injured drinking drivers and 89% of the seriously injured drinking drivers.
Summertime: Young drinking drivers are most likely to be killed or injured in the summer (32.4% and 40.8% respectively) and least likely to be killed or injured in the winter (8% and 11.4% respectively). Weekend: A large percentage of young drinking drivers die or are seriously injured on the weekend.
Night time: The vast majority of young drinking drivers die or are seriously injured in crashes at night.
Automobiles: Most young drinking drivers are killed or seriously injured when driving an automobile. Single-vehicle: Young drinking drivers are most likely to be involved in single-vehicle crashes.
At fault: In nearly two-thirds of the alcohol-related multiple vehicle crashes, it was the fatally injured teen driver who had been drinking and not the other drivers.
Crashes: By the time a driver reaches a blood alcohol content of .10%, he or she is 51 times more likely than a non-drinking driver to be involved in a fatal crash.
D.D. Marx:
D.D. Marx is an author and speaker who recently spoke to 400 students at Neuqua Valley High School in Naperville, IL. Her platform is three-tiered: Believe in Yourself, Follow Your Dreams but never take life for granted. Marx graduated from Benet Academy College Prep in Lisle, IL then attended the University of Dayton where she earned her degree in Communication. She spent some time working before entering the Second City Program in Chicago. Realizing that everything she'd done was pointing her in one direction, D.D. decided to become a writer, using her own experiences in life to inspire her debut project, the Beyond Series.