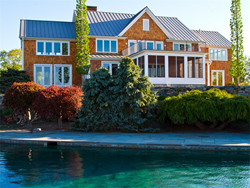 Sharon, Conn. (PRWEB) June 01, 2015
William Pitt Sotheby's International Realty today announced that the Litchfield County, Conn., property of respected New York art dealer, adviser and collector Ben Heller is now for sale. Kent agent Ira Goldspiel has the Sharon, Conn. listing, which is offered at $9,450,000.
The New York City-based art patron and dealer has a reputation for being an early supporter of several major artists, including Jackson Pollock and Mark Rothko, both of whom were close friends with Heller at the beginning of their careers. He also owns or has owned many of the most famous works created by these artists.
The property encompasses 294 acres of land that stands adjacent to thousands of additional acres of parkland. The acreage, which provides a backdrop of far-reaching pastoral views for the main residence, is dotted with specimen plantings and features a 42-acre pond.
The 6,154 square-foot, post-and-beam home, originally built in 1988, underwent a complete renovation in 2014. Positioned high on a hill to take full advantage of the 360-degree views of the surrounding acreage, the residence represents a modern take on the Colonial style, including a metal roof and cedar shakes along with clean, oversized windows. Standout living spaces include an all-season sunroom with stone floors and glass walls looking out to the views, a cook's kitchen, and a spacious master suite with fireplace, oversized his and hers dressing rooms, and private deck with more views. The home has five bedrooms and five full and two half baths in total. The grounds provide a heated gunite pool and pool house.
"This private, tranquil setting feels like a world unto itself, offering the most incredible views taking in green hills, distant mountains and gorgeous waterscapes," said Goldspiel. "Add to that a prominent ownership history, with these walls having served as home to one of the great legends of the art world, and this offering is one of the rarest and most important now on the market in Litchfield County."
For more information on the property, located at 14 Weber Road, click here.
About William Pitt and Julia B. Fee Sotheby's International Realty
Founded in 1949, William Pitt and Julia B. Fee Sotheby's International Realty manages a $3.3-billion-plus portfolio with more than 1,000 sales associates in 26 brokerages spanning Connecticut, Massachusetts, and Westchester County, New York. William Pitt Sotheby's International Realty, combined with partner firm Julia B. Fee Sotheby's International Realty, is the largest Sotheby's International Realty(R) affiliate globally and the 28th-largest real estate company by sales volume in the United States. A full-service real estate firm headquartered in Stamford, Connecticut, William Pitt and Julia B. Fee Sotheby's International Realty provides ancillary services including commercial services through its affiliation with Building and Land Technology, a second-generation development company based in Stamford, Connecticut; William Pitt Insurance Services; and an award-winning global relocation division. For more information, visit the website at williampitt.com.
Sotheby's International Realty's worldwide network includes more than 16,000 sales associates located in 730 offices throughout 56 countries and territories.