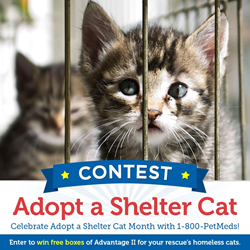 POMPANO BEACH, Fla. (PRWEB) June 02, 2015
1-800-PetMeds®, America's Largest Pet Pharmacy®, is celebrating Adopt a Shelter Cat Month with a contest for U.S. animal rescues and shelters. The three winning rescue groups will receive Advantage II adoption kits, containing free doses of flea prevention, for their adoptable cats.
To enter, a representative of the rescue group must visit the contest entry page at http://www.petmeds.org/adopt-a-cat-month/, fill out the entry form and share a photo and story of a cat the rescue group has helped. The contest is open to entries from rescue groups now until June 14, 2015, at 11:59 p.m. ET. While a shelter or rescue does not have to be cat-exclusive to enter, cats must make up at least 50 percent or more of its adoptable pet population.
The voting period will begin June 15, 2015, and will stretch until June 29, 2015, at 11:59 p.m. ET. Anyone 18 and older will be able to vote once per 24 hour period for a shelter or rescue to win.
The three groups with the most votes at the end of the voting period will win cat adoption kits, each with one dose of Advantage II, in size kitten, small cat or large cat; educational material on the importance of regular flea prevention for cats; and a coupon for ordering through 1-800-PetMeds®. The first-place group will win 250 kits, the second-place group will win 125 kits and the third-place group will win 25 kits. These kits can be sent home with new adoptive cat parents to teach them the importance of regular vet care and flea prevention use.
"Shelters and rescues are full of cats, with more arriving every day," said Erin Gleeson, outreach specialist at 1-800-PetMeds. "If we can help encourage people to adopt their new feline family members, hopefully we can cut down on the number of cats in shelters in need of homes. This contest is a way to bring attention to these cats while also emphasizing the importance of regular veterinary care and flea prevention for cats."
Adopt a Shelter Cat Month was started by the ASPCA to spread awareness of the millions of homeless cats in the U.S. waiting for families. The Adopt a Shelter Cat Contest is run through PetMeds Cares, 1-800-PetMeds'® shelter and rescue donations program, to draw attention to the many U.S. rescue groups saving homeless cats.
1-800-PetMeds® is requesting all entries be completed by rescue group representatives with the groups' knowledge and permission. This contest is limited to U.S. animal rescue groups and animal shelters. Each rescue group may only enter the contest once. Pet lovers are encouraged to reach out to their favorite groups and urge them to enter, and then vote for them to win.
About 1-800-PetMeds®
Founded in 1996, 1-800-PetMeds is America's Largest Pet Pharmacy and Vet-VIPPS accredited, delivering prescription and non-prescription medications, and pet supplies for less, direct to the consumer through its 1-800-PetMeds toll free number and on the Internet through its website.
###