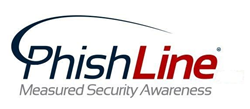 Our new corporate headquarters gives us the space to support our rapid growth.
Waukesha, WI (PRWEB) June 02, 2015
PhishLine, LLC today announced it will move its Worldwide Headquarters to 20800 Swenson Drive, Suite 125 in Waukesha, Wisconsin 53186. The class A office space provides a new base of operations for PhishLine's current corporate staff and the additional space will accommodate future growth.
Mark Chapman, Founder and President, commented "PhishLine is experiencing tremendous growth in the industry as enterprise customers adopt our market leading service to address sophisticated social engineering and phishing attacks through testing and training. With our growth, we are aggressively adding to our sales, engineering, operations and development staff. Our new corporate headquarters gives us the space to support our rapid growth with options for additional space. We also are excited about the new customer briefing center where our customers and partners can interact with the PhishLine team in a single convenient location that is designed for collaboration."
PhishLine, LLC will consolidate marketing, operations and development functions at its Headquarters and will retain remote offices across the United States.
About PhishLine
PhishLine specializes in helping Information Security Professionals meet and overcome the increasing challenges associated with social engineering and phishing threats. PhishLine is positioned to become the industry's leading Social Engineering Management Platform. Enterprise level customers within the Fortune 100 and the Dow Jones Industrial index have selected PhishLine as their Social Engineering Management Platform of choice. In 2014 Gartner, Inc. recognized PhishLine as a Visionary within the "Magic Quadrant for Security Awareness Computer-Based Training (CBT)" based on completeness of vision and ability to execute.