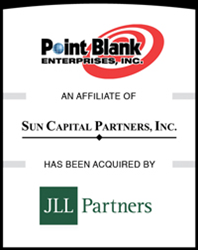 Charlotte, NC (PRWEB) June 01, 2015
BlackArch Partners ("BlackArch") is pleased to announce the sale of Point Blank Holding Corp. ("Point Blank" or the "Company"), an affiliated portfolio company of Sun Capital Partners, Inc. ("Sun Capital") to JLL Partners, Inc. ("JLL"). Point Blank, headquartered in Pompano Beach, FL, is the worldwide leader in the development and commercialization of protective solutions for the military, law enforcement and corrections markets. The purchase by JLL and partnership with Point Blank's management team will provide the Company with the platform to continue to develop state-of-the-art lifesaving technologies, expand its geographic reach and pursue strategic acquisitions.
BlackArch was retained by Point Blank to serve as the Company's exclusive investment bank. The Point Blank transaction builds upon BlackArch's experience and significant momentum in the aerospace, defense & government services (ADGS) sector representing market leading businesses.
Daniel Gaston, Point Blank's Chief Executive Officer, commented, "BlackArch worked tirelessly to lead a differentiated sale process that effectively positioned our strong track record and attractive growth profile. I've worked with a lot of investment bankers over the years and BlackArch has earned my highest recommendation."
About Point Blank Enterprises
Point Blank is the largest manufacturer of ballistic protective products in the world. The Company's leading portfolio of globally recognized brands spans the spectrum of ballistics solutions, including soft body armor vests, concealable vests, hard armor plates, shields, helmets and tactical gear. Point Blank supplies body armor solutions to the U.S. military, federal agencies (e.g., FBI), domestic police departments (e.g., NYPD) and other agencies around the world. The Company provides its diverse base of end users the lightest, most flexible ballistic systems that offer superior protection and comfort in the most demanding environments. Point Blank's advanced in-house product development and testing capabilities have positioned the Company as the leading commercialization partner of choice for advanced materials suppliers and the development platform of choice for the most discerning end users.
About Sun Capital Partners, Inc.
Sun Capital Partners is a global private equity firm focused on identifying companies' untapped potential and leveraging its deep operational and financial resources to transform results. Sun Capital is a trusted partner that is recognized for its investment and operational experience, including particular expertise in the consumer products and services, food and beverage, industrial, packaging, chemical, building products, automotive, restaurant and retail sectors. Since 1995, Sun Capital has invested in more than 315 companies worldwide across a broad range of industries and transaction structures. Sun Capital has offices in Boca Raton, Los Angeles and New York, and affiliates in London, Frankfurt, Paris, Stockholm and Shenzhen.
About JLL Partners
JLL is a leading private equity investment firm based in New York. Founded in 1988, JLL manages more than $3 billion in equity capital and its investors include major university endowments, state pension funds, charitable foundations, corporate pension funds and other institutions. JLL's philosophy is to partner with outstanding management teams to invest in companies that it can help build into market leaders.
About BlackArch Partners
BlackArch Partners is a leading middle-market investment bank offering a full spectrum of advisory services to financial sponsors, private companies and diversified corporations. BlackArch addresses the needs of owner-operators, founders and shareholders of private companies with specialized services that include M&A advisory, strategic advisory and private capital solutions. Headquartered in Charlotte, NC, BlackArch specializes in a number of key industries, including aerospace, defense & government services. BlackArch professionals have closed over 300 transactions in 16 countries on four continents. Please visit our website, blackarchpartners.com, for more details.
Securities offered through BlackArch Securities LLC. Member FINRA and SIPC. Testimonials may not be representative of the experience of all clients. Testimonials are not a guarantee of future performance or success.