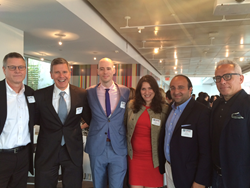 New York, NY (PRWEB) June 01, 2015
New York City's largest professional organization for women in commercial real estate, CREW New York, organized a panel discussion on May 28, featuring trailblazers in the hospitality industry. The panel, which was moderated by Crain's New York Senior Reporter Daniel Geiger, provided hospitality heavyweights with the opportunity to discuss the evolution of the industry from being thought of as simply selling goods and services, to offering an enticing and luxurious lifestyle.
"There's something for everyone who touches the commercial real estate space at CREW New York. We offer diverse programming that spans the commercial real estate industry -- from hospitality, multi-family, industrial, commercial, retail, office, affordable housing, public-private projects to full scale multi-use facilities," said Christine Chipurnoi, co-president of CREW New York and senior vice president of Wells Fargo Insurance Services. "We host panel discussions and networking events, offer intimate coffee gatherings and dine-arounds and next year, we'll host the 2016 CREW National Network Convention. We're always leveraging our connections and resources to help influence the success of professional women in the commercial real estate field in New York City and across the country."
Panelists at the May 28 event included Iron Chef Geoffrey Zakarian, an author and a judge on the Food Network's "Chopped" show; Mark Lanspa, executive vice president at Wells Fargo's Hospitality Finance Group; Michael Overington, vice chairman and partner of Ian Schrager Company; Irina Zavina, senior vice president of global development and strategy for the Gansevoort Hotel Group; and Steven Kamali, founder of the Hospitality House.
The panelists shared their thoughts on the state of the hospitality and hotel industry in the wake of Airbnb's success in New York City, as well as the effect the European struggling economy has on travel to major U.S. cities. Moderator Daniel Geiger asked the panelists to touch on the growing appetite for lifestyle and boutique hotels in addition to the luxury hotel market. Panelists revealed the high importance placed on securing repeat clientele, business travelers and corporations. After the moderated panel session, the floor was opened up for a question and answer session, which made way for a discussion on how the hospitality industry managed to respond quickly to the fast-paced changes in travel and culinary trends. As the panel closed, Michael Overington and Geoffrey Zakarian shared stories about working closely with Ian Schrager, who revolutionized the way hotels cater to their customers through his fanatical eye for detail.
"We always have a finger on the pulse of the important trends affecting the commercial real estate space so we can to help our members, friends and colleagues find continued success in this ever-evolving field," said Jane Lyons, CREW New York co-president and a managing partner at Rhodes Associates.. "We couldn't do this without support from our incredible sponsors who are equally enthusiastic about supporting these interesting and insightful events for professionals across the real estate and corresponding industries."
Visit http://www.crewny.org to learn more about CREW New York events and sponsorship opportunities. To connect with CREW New York via social media, follow the company page on LinkedIn and follow @CREWNewYork on Twitter.
About CREW New York: CREW New York is the largest women's real estate organization in New York City with more than 350 members. The professional group was established in 2015 to bring together two sister organizations, Association for Real Estate Women (AREW) and Commercial Real Estate Women of New York (NYCREW). CREW New York exists to provide outstanding educational programs and networking opportunities that support the advancement and success of women in the real estate industry. The organization offers a robust set of educational events and programs to encourage career development and growth for men and women across all segments and levels of the real estate industry. AREW was the first U.S.-based association dedicated to the professional growth of female real estate professionals.
About CREW Network: The mission of CREW Network is to influence the success of the commercial real estate industry by advancing the achievements of women. CREW Network does this by looking outward to bring more women into the industry, showcasing member successes and serving as a key resource to its members and the industry. CREW Network members represent nearly all disciplines of commercial real estate – every type of expert required to "do the deal." Members comprise more than 9,000 commercial real estate professionals in more than 70 chapters across North America. Find CREW Network on Facebook, follow CREW Network on Twitter, and visit CREW Network at http://www.crewnetwork.org.