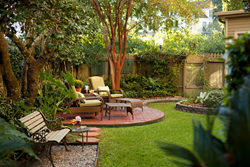 Set in the heart of Natchez's vibrant historic district, a short walk from the Mississippi River, attractions, shopping, and dining.
Natchez, Mississippi (PRWEB) June 03, 2015
Devereaux Shields House, a historic bed and breakfast in downtown Natchez, Mississippi, announced today that it has been recognized as a TripAdvisor® Certificate of Excellence Hall of Fame winner. The Certificate of Excellence award celebrates excellence in hospitality and is given only to establishments that consistently achieve great traveler reviews on TripAdvisor. The 'Hall of Fame' was created to honor those businesses that have earned a Certificate of Excellence for five consecutive years. Winners include accommodations, eateries and attractions located all over the world that have continually delivered a superior customer experience.
"We are thrilled to have been inducted into the 'Hall of Fame' and we'd like to thank all of our past guests who took the time to complete a review on TripAdvisor," said Ron and Eleanor Fry, Owner/Innkeepers at Devereaux Shields House. "Winning the Certificate of Excellence for five years in a row is wonderful reflection on our brand of 'Victorian Southern Comfort' and excellent service and hospitality we strive to provide every guest who comes through our door."
About Devereaux Shields House:
Devereaux Shields House is set in the heart of Natchez's vibrant historic district, a short walk from the Mississippi River, attractions, shopping, and dining. The property consists of a lovingly restored 1893 Queen Ann Victorian home and charming 1873 Victorian cottage, which is also pet friendly. Beautifully manicured gardens, award-winning breakfasts, and guest-friendly Southern hospitality are what sets this Natchez bed and breakfast apart from others. New this year, they are also offering Southern Adventure Tours for guests looking for unique Mississippi travel experience.
Owners Ron and Eleanor Fry are celebrating their 10th anniversary of running the Devereaux Shields House this year. They bought the property in 2004 while Ron took steps to retire as an Aerospace Engineer and Senior Program Manager, and opened the bed and breakfast in 2005. They have continued to make improvements and add amenities to the property over the years, including expanding the spacious suites, creating new garden common spaces, and adding wine and cheese guest welcome receptions most afternoons. When asked about it Eleanor said "It may not look like retirement to most folks but we love meeting new people from around the world and introducing them to the area."
"Winning the TripAdvisor Certificate of Excellence for five consecutive years is a remarkable feat. TripAdvisor is pleased to induct five-time award winners into the 'Hall of Fame'," said Marc Charron President, TripAdvisor for Business. "By putting a spotlight on businesses that are focused on consistently delivering great service to customers, TripAdvisor not only helps drive an improvement to hospitality standards around the world, it also gives businesses both large and small the ability to shine and stand out from the competition."
When selecting Certificate of Excellence winners, TripAdvisor uses a proprietary algorithm to determine the honorees that takes into account the quality, quantity and recency of reviews and opinions submitted by travelers on TripAdvisor over a 12-month period as well as business's tenure and ranking on the Popularity Index on the site. To qualify, a business must maintain an overall TripAdvisor bubble rating of at least four out of five, have a minimum number of reviews and must have been listed on TripAdvisor for at least 12 months.