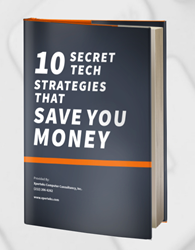 Most businesses do not understand that they can easily save money by planning ahead and implementing simple computer strategies. Marcial Velez, CEO
New York, N.Y. (PRWEB) June 02, 2015
Xperteks Computer Consultancy, Inc. announced today the availability of its e-book "10 Secret Tech Strategies That Save You Money." As a leading corporate IT Managed Services Provider (MSP) in New York City, with over 15 years experience, Xperteks shares the key secrets for businesses to save money on technology and proven strategies that have made its clients successful. This e-book is complimentary and available today.
"After servicing companies for almost 15 years, we want to help companies understand how they can maximize their technology by sharing our experiences" stated Marcial Velez, CEO and Founder of Xperteks. "Most businesses do not understand that they can easily save money by planning ahead and implementing simple computer strategies. So much money is wasted by companies today without them realizing it."
This e-book is a compilation of the top 10 secret strategies that successful companies use to save money; beat their competitors and supercharge their company's technology investment. For example, the e-book details a simple tactic that companies perform every 2 years that saves money consistently.
Besides the e-book, Xperteks launched its new corporate website which details cost effective solutions provided to specific clients in the Financial, Start-ups, Medical, and Retail marketplaces. With clients such as Colgate-Palmolive, HITN, Pedone Advertising, West Care Medical, and Institute for Private Investors, Xperteks is considered one of the leading technology consulting firms in the New York Metropolitan Region.
About Xperteks
Xperteks Computer Consultancy, Inc. is a premiere Apple, PC and network managed services provider (MSP) that provides comprehensive IT services to small, mid-sized and enterprise businesses nationwide. The company aligns its business interests with owners, management team, and top IT executives, by demonstrating how they can create a stable and productive working environment for a low, fixed cost. Through thoughtful, proactive IT management, their proven methods use the best of breed, next-generation technology services that maximizes uptime and performance of critical business operations. Xperteks is a New York Certified Minority Business and recognized on CRN's Top MSP's Elite 250 for 2014 and 2015. http://www.xperteks.com