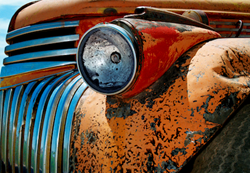 I see life and love in rusty trucks and consider the work truck as a metaphor for life's journeys. - Barbara Bowles
Durango, CO (PRWEB) June 03, 2015
Coinciding with the Durango Motor Expo, Sorrel Sky Gallery will feature a special exhibit by Santa Fe "Pick Up Artist®" Barbara Bowles on June 20 at Sorrel Sky's downtown Durango location. Bowles will be present from 1:00 to 6:00 p.m. to meet the public and share stories about her photographs. Bowles' photographs are the perfect complement for lovers of vintage trucks as she captures the unique personalities of her weathered and rustic subjects –abandoned pick up trucks.
Through her lens she captures the spirit of the forgotten objects and creates visual poetry, bringing to life the colorful character of each truck she portrays. For nearly 15 years, Bowles has sought out and photographed these rusty icons of the Southwest.
There's more to an old truck than meets the eye for Bowles. "I see life and love in rusty trucks and consider the work truck as a metaphor for life's journeys," she offered. Though her subjects are old, Bowles compositions are very contemporary and abstract. The colors and reflections captured in her images are all natural coloration and weathering found on the vehicles - nothing has been added. The photographs are shot using 35 mm film and printed with pigmented inks on watercolor paper to brings out the inherent textures and colors of the rusted trucks.
Bowles was raised in the Northeast and was drawn to the light and beauty of New Mexico about 13 years ago. After 10 years of owning and operating her own gallery in Santa Fe featuring her photographic series, she states
In 2009, the Booth Western Art Museum exhibited her solo show, "Abandoned Beauty, Trucks of Enchantment", and her work is included in the museum's permanent collection. Bowles studied painting at the Corcoran School of Art in Washington D.C. She has a Bachelor of Studio Fine Arts Degree from George Mason University.
Sorrel Sky Gallery's fresh approach to Western art presents a select collection of contemporary and traditional fine art and jewelry for the discerning collector. Sorrel Sky Gallery was founded in Durango, CO in 2002 and opened its Santa Fe, NM location in 2014. It represents over 60 painters, sculptors and jewelers including bronze artist Star Liana York, painter Billy Schenck, and Ben Nighthorse, among others.