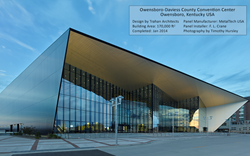 Muskegon, MI (PRWEB) June 03, 2015
The Project
Lorin Industries is proud to have played a key role in the design of the Owensboro-Daviess County Convention Center project in Owensboro, KY. The stunning result was conceived by the design team at Trahan Architects, led by Brad McWhirter, in collaboration with Lorin Industries, MetalTech-USA, and F.L. Crane.
Packed within two levels on one city block, the center folds towards downtown and downriver simultaneously, subtly reinterpreting the region's historic barns and Victorian storefronts. The Convention Center project utilized an exterior anodized aluminum panel rainscreen system engineered and fabricated by MetalTech-USA with Class I anodized aluminum from Lorin Industries. Lorin Industries is a world class aluminum anodizer specializing in the architectural industry. Working closely with Trahan Architects and MetalTech-USA, Lorin Industries provided the anodized aluminum for the exterior wall panels.
The Look
The anodized aluminum by Lorin Industries shows off the incredible beauty and natural metal look that are inherent to anodized aluminum. The exterior of the building uses a BlackMatt® ColorIn Long Line Brushed finish, while the soffits and inward facing exterior walls use a ClearMatt® Long Line Brushed finish. The juxtaposition of the two colors creates a very dramatic effect that helped Trahan create the look they wanted. The project's siting and dark exterior skin allude to the early tobacco barns found throughout the Kentucky region during the 1800s.
Integral in achieving this look are the roughly 100,000 square feet of Vertical Interlocking Reveal Panels, designed with minimal flashing and panel joints to create the sleek exterior. A great deal of one-off panel fabrication by MetalTech USA was necessary to minimize visible flashings and trims and fit the tight design specs.
The System
The vertical orientation of the panel system, in conjunction with the angular wings at the North and South ends of the building resulted in hundreds of panels with ranging lengths that required an angled panel. Each panel had to fit in an exact location of the building. This required a great deal of logistical planning, detailed verification by the installer, and tight fabrication tolerances. MetalTech-USA did an excellent job in producing a quality panel system and achieved the look and quality Trahan wanted. F.L.Crane completed the installation.
Today, Lorin Industries Inc. is a multi-million dollar company, partnering with hundreds of customers located in multiple countries serving a wide range of markets. Lorin Industries' unique coil anodizing technology provides an almost infinite number of aluminum finishing solutions; giving architects, designers, and manufacturing engineers greater flexibility in design with a consistent and durable aluminum finish. This combination of superior functional performance and stunning beauty gives anodized aluminum an almost infinite possibility of finishes.
To find out more about Lorin visit us online.